Ionic liquids as a tool for lignocellulosic biomass fractionation
Sustainable Chemical Processes
2013
1:3
Received: 31 January 2013
Accepted: 19 April 2013
Published: 22 May 2013
Abstract
Lignocellulosic biomass composes a diversity of feedstock raw materials representing an abundant and renewable carbon source. In majority lignocellulose is constituted by carbohydrate macromolecules, namely cellulose and hemicellulose, and by lignin, a polyphenilpropanoid macromolecule. Between these biomacromolecules, there are several covalent and non-covalent interactions defining an intricate, complex and rigid structure of lignocellulose. The deconstruction of the lignocellulosic biomass makes these fractions susceptible for easier transformation to large number of commodities including energy, chemicals and material within the concept of biorefinery. Generally, the biomass pre-treatment depends on the final goal in the biomass processing. The recalcitrance of lignocellulose materials is the main limitation of its processing once the inherent costs are excessively high for the conventional pre-treatments. Furthermore, none of the currently known processes is highly selective and efficient for the satisfactory and versatile use, thus, new methodologies are still studied broadly. The ionic liquid technology on biomass processing is relatively recent and first studies were focused on the lignocellulosic biomass dissolution in different ionic liquids (ILs). The dissolution in IL drives to the structural changes in the regenerated biomass by reduction of cellulose crystallinity and lignin content contrasting to the original biomass. These findings provided ILs as tools to perform biomass pre-treatment and the advantageous use of their specific properties over the conventional pre-treatment processes. This review shows the critical outlook on the study of biomass dissolution and changes occurred in the biomass during this process as well as on the influence of several crucial parameters that govern the dissolution and further pre-treatment process. The review of currently known methods of biomass fractionation in IL and aqueous-IL mixtures is also discussed here and perspectives regarding these topics are given as well.
Keywords
Ionic liquidLignocelluloseBiomass fractionsPre-treatmentCelluloseLignin
Introduction
Lignocelluloses such as hardwood, softwood and agriculture residues are the main raw material from renewable feedstock representing an abundant carbon source [1]. The main components of lignocellulosic materials are cellulose, hemicellulose and lignin. Cellulose and hemicellulose constitute the carbohydrate fraction where cellulose is a linear semi-crystalline fibrous homopolysaccharide and hemicellulose is a branched amorphous heteropolysaccharide. Cellulose chains are embedded in the core of the lignocellulosic biomass with hydroxyl groups oriented to form strong intra- and intermolecular hydrogen bonds. This lattice network results in organised micro- and macrofibrils as well as interacts with the hemicellulose fraction. Lignin is characterised as an amorphous phenylpropanoid polymer that acts as a "glue" binding hemicellulose and cellulose by ester linkages and hydrogen bonds, respectively [2]. These molecular interactions define a complex and rigid structure forming a recalcitrant material against hydrolysis guiding to difficult, harsh and expensive separation processes [3].
Generally, the separation process of these compounds is performed by thermochemical and/or physical methods as a pre-treatment, exposing the carbohydrate fraction to facilitate further processing. Carbohydrates are subsequently hydrolysed to sugar monomers and then converted to bioalcohols (ethanol, butanol), carboxylic acids, biohydrogen or methane by fermentation processes [4, 5]. On the other hand, the extracted lignin can be used as a low-value heating fuel, binder, dispersant, emulsifier and sequestrant. Lignin can also act as a source of high-value molecules, such as biologically active polyphenols and tannins [6, 7]. The conventional methodologies have technological limitations such as an insufficient selectivity and partial degeneration of products that compromise the efficiency of the separation processes. Hence, the current and envisaged investigations are focused on understanding the pathways to improve the selective separation of lignocellulose compounds to accomplish feasible and sustainable processes.
Ionic liquids (ILs) are recognised to facilitate more green applications in reactions and separations due to their unique beneficial properties, such as negligible vapour pressure [8, 9] and high thermal stability [10]. Their very low vapour pressure reduces the risk of exposure that is a clear advantage over the use of the classical volatile solvents. Although, studies of basic properties in the environmental risk assessment of ILs are still required [11], it is notable that toxicity of the ILs is mainly ascribed to the alkyl chain and that the toxicity of imidazolium and pyridinium ILs increases with their cation chain length [12, 13]. ILs are compounds composed solely of ions with immeasurable combinations of anions and cations. They possess widely tuneable properties, such as hydrophobicity [14], polarity and solvent power [15, 16].
In the last decade, numerous studies focused on the dissolution of natural polymers in ILs demonstrating a great potential of ILs as solvents [17–21]. Cellulose was one of the most studied biopolymers exhibiting a high solubility in a variety of ILs [22]. A wide range of carbohydrate solubilities was scrutinised using different ILs, presenting that one of the main benefits of using ILs to dissolve carbohydrates is that ILs can be tailored to accomplish dissolution or functionalisation of these polymers [22].
Due to the ILs solvent power, their use in the development of alternative methods for the extraction and processing of carbohydrates and other compounds from lignocellulosic biomass was recently explored intensively. The aim of this work is to describe the current state-of-the-art on the fractionation of lignocellulosic biomass in ILs as a pre-treatment methodology.
The cations and anions of ILs used in this review are presented in Figures
1
and
2
, respectively.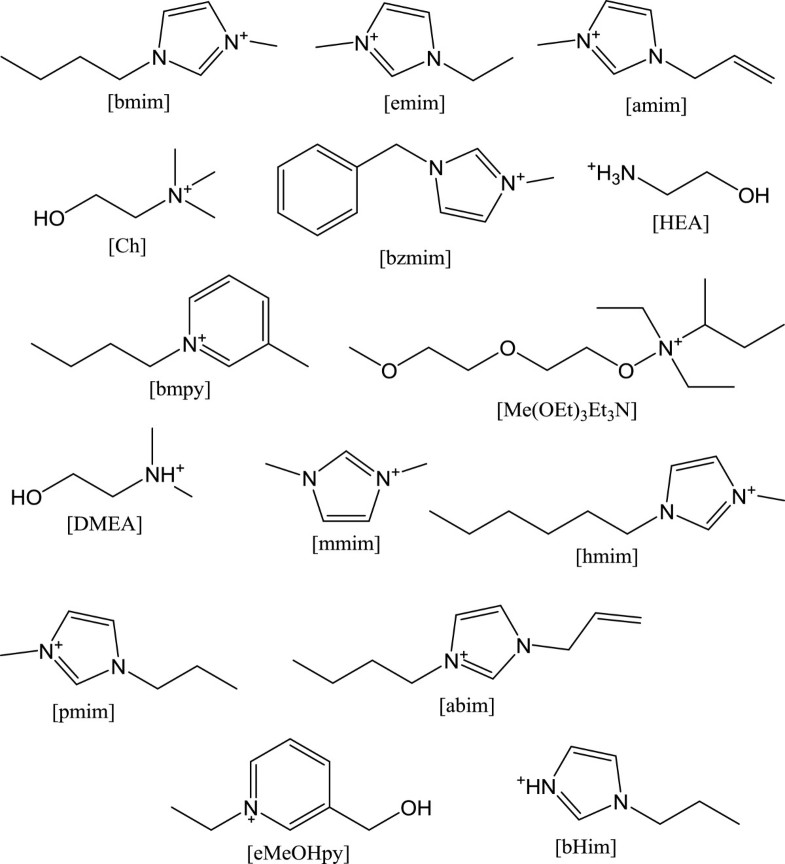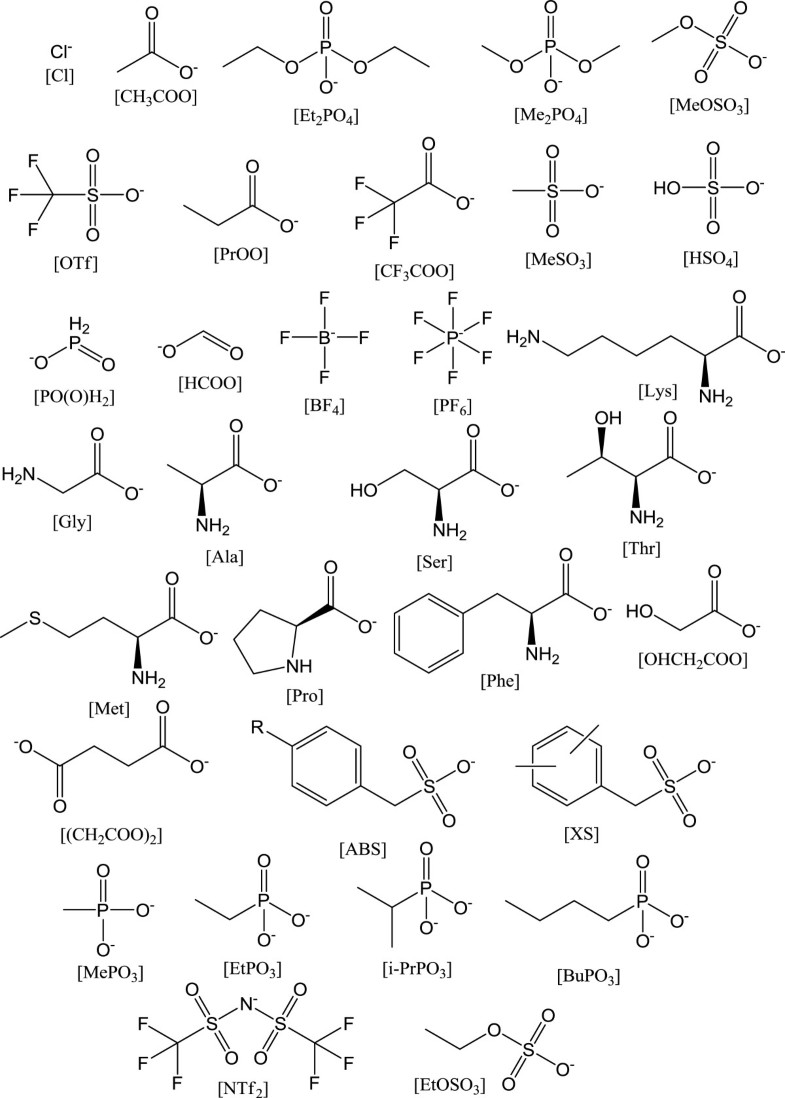 Conclusions
Lignocellulosic biomass is a widely abundant renewable feedstock. The great diversity of lignocellulosic biomass opens a great opportunity for the production of various commodities using the wise valorisation processes. Ionic liquids have proven the inordinate potential in reactions and separation including biomass processing. This review shows that ILs have potential to be used in the biomass pre-treatment. As it was demonstrated, ILs can be successfully used to obtain cellulose, hemicellulose and lignin fractions with purity and efficiency equal or superior to the classical pre-treatment methods. The exploitation of ILs in the lignocellulosic biomass processing demonstrates the enormous potential in this research area, especially in the context of a biorefinery; however, an extensive research is still required to better understand and predict outcomes of these processes.
Declarations
Acknowledgments
This work was supported by the Fundação para a Ciência e a Tecnologia (FCT, Portugal) through grants SFRH/BPD/26356/2006, PEst-C/EQB/LA0006/2011 and Programme Ciência 2008, and by the European Commission for the financial support of the PROETHANOL2G Project (FP7-ENERGY-2009-BRAZIL; Grant agreement: 251151). Authors wish to acknowledge LNEG for the financing of the ERA-IB project (Products from lignocelluloses-EIB.10.013).
Authors' Affiliations
(1)
Laboratório Nacional de Energia e Geologia, Unidade de Bioenergia, Lisbon, Portugal
(2)
Departamento de Química, Faculdade de Ciências e Tecnologia, REQUIMTE, Universidade Nova de Lisboa, Caparica, Portugal
Copyright
© da Costa Lopes et al.; licensee Chemistry Central Ltd. 2013
This article is published under license to BioMed Central Ltd. This is an Open Access article distributed under the terms of the Creative Commons Attribution License (http://creativecommons.org/licenses/by/2.0), which permits unrestricted use, distribution, and reproduction in any medium, provided the original work is properly cited.