Thermochemical processes for biofuels production from biomass
Sustainable Chemical Processes
2013
1:22
Received: 11 September 2013
Accepted: 17 November 2013
Published: 20 November 2013
Abstract
The contribution of biomass to the world's energy supply is presently estimated to be around 10% to 14%. The conversion of biomass to biofuels can be achieved primarily via biochemical and thermochemical processes. Recently, the use of thermochemical processes as pyrolysis and gasification has received great attention. The biomass composition and form of process conduction can affect greatly the efficiency of conversion for both gasification and pyrolysis. This review compiles recent thermochemical studies using several kinds of biomass to obtain biofuels and, additionally, it presents a brief description of main gasification and pyrolysis processes employed. Publications in Patent database also were reported and compiled.
Keywords
GasificationPyrolysisBiofuelsBiomassThermochemical processes
Introduction
Recently there has been a renewed interest in using biomass as an energy source due to the increasing demand in global energy coupled with environmental concerns of using fossil fuels. The contribution of biomass to the world's energy supply is presently estimated to be around 10% to 14% [1]. The conversion of biomass to biofuels can be achieved primarily via biochemical and thermochemical processes. The thermochemical processes can convert both food and nonfood biomass to fuel products via pyrolysis and gasification [2]. Thermochemical gasification is a promising technology that can exploit the embedded energy in various types of biomass and convert to valuable products suitable for different industrial applications. Common feedstock for gasification includes agricultural crop residues, forest residues, energy crops, organic municipal wastes, and animal waste [2, 3].
Pyrolysis, like gasification, is an advanced thermal treatment that converts a material into a syngas but at lower temperatures and in the absence of oxygen. It is always also the first step in combustion and gasification processes where it is followed by total or partial oxidation of the primary products [4, 5]. Despite the calorific value of a gas derived from pyrolysis being higher than that of gasification, the volume of gas produced is usually much lower due to the lack of the oxygen carrier [6–8].
Both pyrolysis and gasification of biomass are complex processes and depends on several factors such as the composition of lignocellulosic material, heating rate and content of inorganic material etc. The amounts of cellulose, hemicellulose and lignin present in the biomass affect the pyrolysis and gasification, implying in great variation in the efficiency among different biomass and process employed. In this sense, the objective of this review is to compile the main biomass used in thermochemical studies. In addition, it will be presented a brief description of main gasification and pyrolysis processes employed as well as the main technologies cited in patent database.
Gasification
In the gasification process, biomass is converted into a syngas by the partial oxidation of biomass at high temperatures [
9
]. Gasification takes place at moderately high temperature and turns solid biomass into combustible gas mixtures (known as synthesis gas or syngas) through simultaneous occurrence of exothermic oxidation and endothermic pyrolysis under limited oxygen supply [
2
,
10
]. The main components of this gas are CO, H
2
, CO
2
, CH
4
, H
2
O and N
2
. However a variety of tars are also produced during the gasification reaction [
11
,
12
]. The resulting syngas can be burned to produce heat or synthesized to produce liquid transportation fuels [
2
,
13
]. Figure
1
shows a schematic diagram whose illustrate the biomass gasification technology. Pyrolysis is the first step to occur the gasification.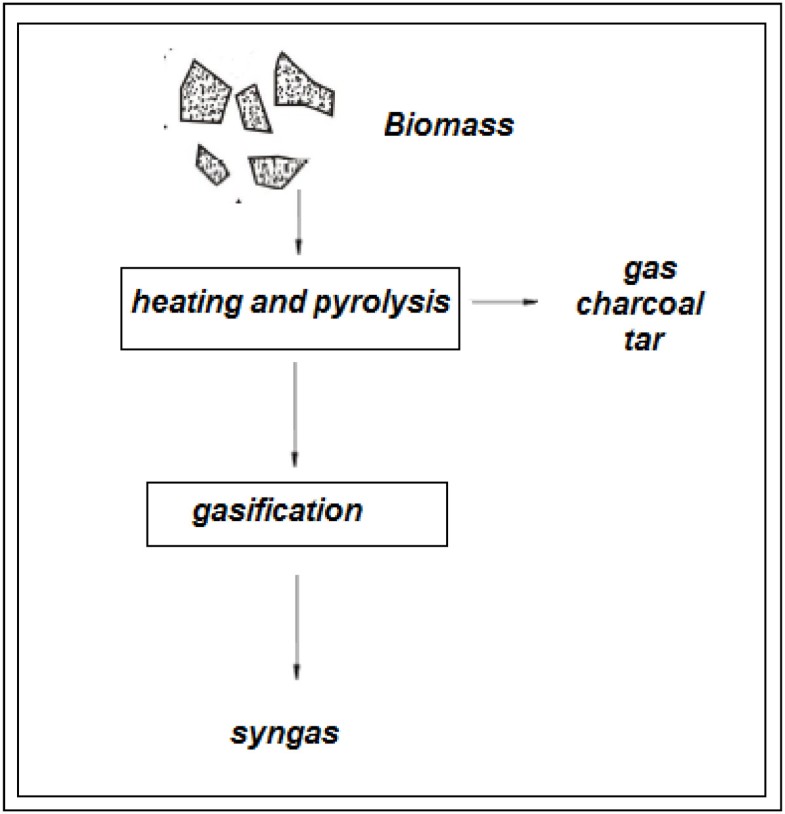 For the synthesis of liquid fuels and other chemicals only a nitrogen-free syngas is suitable. Several studies on nitrogen conversion in different gasification processes are available in the literature. Fixed bed and fluidized bed gasification are more common. Different gasification agents can be applied, as air, oxygen or steam [14, 15].
The use of air as a gasifying agent is most common in industry but yields low heating value gas (4–7 MJ/Nm3) that is only suitable for heat and power applications. On the other hand, steam and oxygen can increase the heating value of syngas (10–18 MJ/Nm3) and the H2/CO ratio. A high H2/CO ratio is required for producing liquid fuels through Fischer–Tropsch synthesis and also benefits the production of H2 for use in fuel cells. However, high capital costs and complex system design have hindered the applications of steam and oxygen gasification at a large industrial scale [2, 16].
There are different gasification processes available in the literature to produce the syngas. The most important methods are described below and, the most significant studies referring gasification of biomass are compiled in Table
1
.
Table 1
Comparison of different types of biomass and gasification process
Process

Biomass

Experimental conditions

Results

Reference

Dual fluidized bed gasifier

Lignite

Input fuel power: 90 kWth;

A lower amount of steam and the high catalytic activity of the lignite caused a better performance of the gasification reactor.

[17]

Particle size: 370 and 510 μm;

Steam-to-carbon ratio: 1.3 and 2.1 KgH2O/Kgcarbon.

The reduction of particle size increases product gas yield in +15.7%.

Waste wood; Bark; Plastic residues

Input fuel power: 100 kW; Nitrogen content: 0.05 to 2.70 wt.-%. Temperature: 850°C

The DFB gasifier is suitable for the conversion of fuels with higher loads of nitrogen.

[14]

Water: 6.1 wt.-% (waste wood); 11.9 wt.-% (Bark)

Empty fruit bunches

Moisture: more than 50 wt.%;

The gasification efficiency decreases as the moisture content increases.

[18]

A high content of moisture and oxygen resulted in a low calorific value.

Particle size: less than 1.0 mm;

Fluidized bed gasifier

Pine, maple-oak mixture, and discarded seed corn

Gasifying agent: Oxygen and steam

The gasification is most effective for feedstock with low nitrogen and moisture contents.

[2]

Temperature: 800°C.

Input fuel power: 800 kW

Supercritical water gasification

Indole

Reaction times: 3 –80 min

The yield of CH4 increased significantly as the indole concentration increased.

[19]

Temperature: 550 and 700°C

Hydrogen and carbon gasification efficiencies exhibited values up to 79% and 20%, respectively.

Initial indole concentration: 0.2 mol/L

Pressure: 30 MPa

Glycerol

Temperature: 300 - 430°C.

The highest rate of coke formation occurred in the temperature range of 350 –370°C, and long residence times.

[20]

Residence times: 5–120 min.

Feed concentrations: 10, 20 e 30 wt.%

Pressure: 30 MPa.

Steam gasification

Sugarcane bagasse

Temperature: 800, 900 and 1000°C;

The increase in reactor temperature resulted in an increase in energy yield and apparent thermal efficiency.

[21]

Gasifying agent: 8 g/min of steam;

The enhancement in syngas quality at the 1000°C case resulted in an increase of energy yield.

Tracer gas: 2.33 g/min of nitrogen;

Sample: 15 g of sugarcane bagasse.

Biomass not specified.

Temperature: 800°C to 1200°C.

Higher gasification temperature leads to higher energy efficiencies of product gas and lower energy efficiencies of tar.

[22]

Entrained-flow gasifier

Raw bamboo; Torrefied bamboo; High-volatile bituminous coal

Gasification agent: Oxygen;

The carbon conversions of the three fuels are higher than 90%.

[23]

Sizes of the particles: 44 – 250 μm;

fuel temperature: 300 K;

Pressure: 2 Mpa.

Atmospheric pressure gasifier and the pressurized gasifier.

Forest residue

Moisture: 10 – 20%;

In comparison with fuels and chemicals from conventional feedstocks, biomass based

[24]

Feedstock size: 20 – 80 mm.

fuels and chemicals are expensive.

Fixed bed reactor

Crude glycerol with olive kernel

Temperature: 750–850°C

H2 concentration increased from 19 to 33% (v/v) and the tar yield decreased from 19.5 to 2.4 wt% at conditions of T = 850°C and λ = 0.4.

[25]

Air ratios of λ = 0.2–0.4

Pine; Red oak; Horse manure; Cardboard

Temperature: 800°C;

The thermodynamic

[26]

Moisture: 12.2 wt.% (Pine), 14.8 wt.% (Red oak) 18.33 wt.% (Horse manure) 12.6 wt.% (Cardboard)

efficiencies for the gasifier were found in the range of 81.7–84.6%

Packed-bed reactor.

Mixture of polypropylene and poplar sawdust

Temperature: 400 to 800°C; Particle size: 2 mm (sawdust); 3 mm (polypropylene)

The increase of temperature led to the decrease of the solid residues fraction and an increase in the gas yield.

[27]

Optimum temperature: 700°C
Pyrolysis
Pyrolysis is an advanced thermal treatment that converts a material into a syngas at temperatures around 1000°C and in the absence of oxygen. Pyrolysis also can be described as the direct thermal decomposition of the organic matrix that could obtain solid, liquid and gas products [35–37]. Temperature is the most important factor for the product distribution of pyrolysis, most interesting range for the production of the pyrolysis products is between 625 and 775 K. The charcoal yield decreases as the temperature increases. Yield of products resulting from biomass pyrolysis can be maximized as follows: charcoal (a low temperature, low heating rate process), liquid products (a low temperature, high heating rate, short gas residence time process), and fuel gas (a high temperature, low heating rate, long gas residence time process) [8, 38, 39].
Lower process temperature and longer vapour residence times favour the production of charcoal. High temperature and longer residence time increase the biomass conversion to gas and moderate temperature and short vapour residence time are optimum for producing liquids [4, 40]. Short residence time pyrolysis of biomass at moderate temperatures has generally been used to obtain high yield of liquid products. For highly cellulosic biomass feedstocks, the liquid fraction usually contains acids, alcohols, aldehydes, ketones, esters, heterocyclic derivatives and phenolic compounds [35, 41, 42].
The pyrolysis process for fuels and chemicals could be divided in: catalytic, fast and flash. The difference between them are the process conditions which involves the solid residence times, heating rate, particle size and temperature. These can be used for a commercial production of a wide range of fuels and chemical from biomass feedstocks [
38
,
43
,
44
]. To produce these syngas four different methods are applied, which are discussed below. A compilation among of different types of biomass and pyrolysis processes is described in Table
2
.
Table 2
Comparison of different types of biomass and pyrolysis process
Process

Biomass

Experimental conditions

Results

Reference

Wood

Moderate temperature, short residence time vapour

Char%

Liquid%

Gas%

12

75

13

Lignocellulosic

Fluid Bed 500°C

41,67% C 7,87% H 50,46% O

Beech

Miscanthus

43,13% C 8,14% H 0,22% N 48,51% O

Spruce

43,66% C 7,67% H

48,67% O

Fast

Beech

Circulation Fluidised

39,45% C 7,96% H 0,001% N 52,58% O

Forest residue

Bed

39,44% C 8,01% H 0,30% N 52,25% O

500°C

Pine

Ablative 480°C

41,27% C 7,79% H

0,01% N 50,93% O

Ablative 560°C

32,64% C 8,01% H

0,35% N 58,31% O

Eugenol

Non-isothermal laminar-flow

Phenol, furans, ethers, acids, single-ringaromatic

300-900°C

Atmospheric pressure

Residence times 1–3 s

Raw-straw

Fluidized Bed

C-Biooil wt%

E- Biooil wt%

Gases%

350°C

32,59

13,96

30,6

500°C

23,48

6,08

49,3

HF-straw

350°C

29,34

26,04

28,2

500°C

21,59

13,56

57,1

Slow

Spruce

Fixed Bed

22.56% C 10,8% H 0,3% N 63,34% O

[45]

500°C

Flash

Celulose, sugar cane bagasse

Fixed Bed with H2

10-20% O

[35]

Hidropyrolysis 10 Mpa

Oil palm shell

Fluidised Bed with N2

High fraction of phenol

Pine and spruce

550°C

Oxygenated organic compounds aldehydes, acids, ketones and metoxylated phenols

Wood

Fluidised Bed

Liquids homogeneous

400-550°C

Phenolic compounds

Free Fall

Aromatic compounds

Atmospheric pressure

700-900°C

Circulating Fluidised Bed

Non-hidrocarbons and alkanes-aromatics

Rape seed grains

Fluidised Bed,

Fatty acids

500-600°C

Wood chips and rice shell

Powder-particle; Catalitic; Fluidised Bed 427°C

Aromatic hydrocarbons

Birch bark, birch sapwood

One step and stepwise

Phenols

Vacuum 275-350°C

NE

Grape

Tubular Batch with N2

43,21% C 5,94% H

45,50% O 0,65% N 1,24% S

40-50°C∕min

Neem Seed

Semi-batch

38% oil, large pore size, high clorific value

400-500°C 20°C∕min

Palm seed

45,3% C, 5,6% H, 1% N,

0,8% S, 47,2% O

200-450°C

Palm leaf

49,4% C, 5,8% H, 1,3% N

1,3% S, 42,3% O

Palm leaf stem

36,1% C, 5,2% H, 0,7% N,

0,7% S, 57,2% O

Palm bituminous coal

73,1% C, 5,5% H, 1,4% N,

1,7% S, 8,7% O

Wood

400°C

Char%

Liquid%

Gases%

24,1

65,5

10,2

450°C

21,4

65,7

11,1

500°C

18,9

66

14,6

550°C

17,3

67

14,9

550°C

16,7

67,8

15,7

550°C

17,1

66,2

15,2

Esparto grass

Oxidative pyrolysis

0,50% N, 38,16% C,

inert atmosphere

25-650°C

5,40% H, 55,94% O

Straw

0,21% N, 42,93% C,

[51]

6,16% H, 50,70% O

Posidonea Oceanic seaweed

0,71% N, 34,85% C,

4,54% H, 0,62% S, 59,28% O

agricultural urban pruning waste

2,09% N, 48,06% C,

5,81% H, 44,04% O

waste of forest pruning

0,65% N, 40,12% C,

5,44% H, 53,79% O

Xylan

Steam pyrolysis; 5X105 Pa

Char%

Liquid%

Gases%

[52]

703°C

29,7

53,3

16,9

873°C

22,4

53,2

24,4

Celulose

703°C

21

70,4

8,6

873°C

17,5

68,7

13,8

Lignin

703°C

55,9

40,4

3,7

873°C

48,5

40

11,5
Technologies
Table
3
shows the latest technologies that involves the production of syngas and biofuels by gasification and pyrolysis processes from biomass. The gasification process by fluidized-bed reactor is the most common among registered technologies, as showed in Table
3
. The registered patents, US 2012/0266531 A1 [
61
] e US 2012/176611 A1 [
62
], use this process to make a pretreatment of biomass and to produce the syngas. Referring the technologies for pyrolysis, it is found registers for catalitic pyrolysis, fast pyrolysis e hidropyrolysis. Catalitic pyrolysis is the most used technology, where the registered patents WO 2011/064172 A1 [
63
] used catalysts to make an oil, whereas WO 2012/012191 A1 [
64
] used the effective pyrolysis of biomass to produce biofuels through fast thermal exchange.
Table 3
Recent technologies in gasification and pyrolysis process
Process

Patent

Registration number

Reference

Gasification

Gas/shaft process

Method and apparatus for coproduction of pig iron and high quality syngas.

WO 2012/018394 A3

[65]

N.E.

Nanoparticle catalyst and method of using the same for biomass gasification.

US 2011/0315931 A1

[66]

Fischer-Tropsch reactor

Method of puryfing a gas.

US 2012/0202897 A1

[67]

Fluidized bed gasifier

Pretreatment of biomass feed for gasification.

US 2012/0266531 A1

[61]

Mixed flow

Method and device for mixed flow type gasification of biomass.

US 2012/159469 A1

[68]

Fluidized bed and downstream edge

Method for producing production gas and apparatus using same.

US 2012/176611 A1

[62]

N.E.

Ammonia production by integrated intencified process.

WO 2012/025767 A3

[69]

Combined reactor

A processes and a system for the gasification and/or combustion of biomass and/or coal with and at least partial carbon dioxide separation.

WO 2012/103997 A1

[70]

Pyrolysis

NE

Production of stable biomass pyrolysis oils using fractional catalytic pyrolysis

US 2010/0212215 A1

[71]

Producing of biofuel by fast pyrolysis of organic material, using a system of three interconnected serial fluidized bed reactors

Equipment and a method for generating biofuel based on rapid pyrolysis biomass

US 2011/0219680 A1

[72]

Producing substitute natural gas (hydrocarbons) from forestry residues by hydropyrolysis

Sorption enhanced methanation of biomass

US 2013/0017460 A1

[73]

NE

Method and apparatus for pyrolysis and gasification of biomass

US 2013/0125465 A1

[74]

Reactor with rotational chamber for pyrolysis of biomass to conversion in energy

Reactor for pyrolysis of biomass

WO 2011/034409 A1

[75]

NE

Process for catalytic hydrotratament of a pyrolysis oil

WO 2011/064172 A1

[63]

Pyrolytic conversion of biomass materials into stable fuels and other usable products

Production of pyrolysis oil

WO 2011/103313 A2

[76]

Effective pyrolysis of a biomass utilizing rapid heat transfer from a solid heat carrier or catalyst

Method and apparatus for pyrolysis of a biomass

WO 2012/012191 A1

[64]
Declarations
Acknowledgements
The authors thank CAPES for scholarships.
Authors' Affiliations
(1)
Department of Chemical Engineering, Federal University of Santa Maria, Santa Maria, Brazil
Copyright
© Canabarro et al.; licensee Chemistry Central Ltd. 2013
This article is published under license to BioMed Central Ltd. This is an Open Access article distributed under the terms of the Creative Commons Attribution License (http://creativecommons.org/licenses/by/2.0), which permits unrestricted use, distribution, and reproduction in any medium, provided the original work is properly cited. The Creative Commons Public Domain Dedication waiver (http://creativecommons.org/publicdomain/zero/1.0/) applies to the data made available in this article, unless otherwise stated.