Tools and techniques for solvent selection: green solvent selection guides
Sustainable Chemical Processes
2016
4:7
Received: 18 February 2016
Accepted: 13 May 2016
Published: 23 May 2016
Abstract
Driven by legislation and evolving attitudes towards environmental issues, establishing green solvents for extractions, separations, formulations and reaction chemistry has become an increasingly important area of research. Several general purpose solvent selection guides have now been published with the aim to reduce use of the most hazardous solvents. This review serves the purpose of explaining the role of these guides, highlighting their similarities and differences. How they can be used most effectively to enhance the greenness of chemical processes, particularly in laboratory organic synthesis and the pharmaceutical industry, is addressed in detail.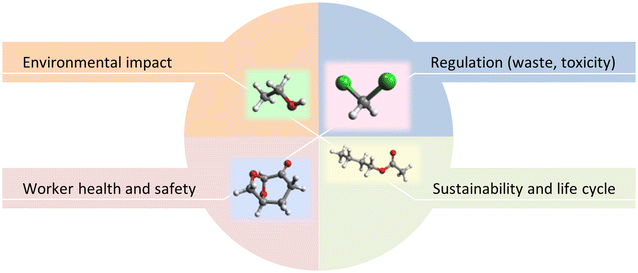 Keywords
Green solventsSolvent selection guideBio-based solventGreen chemistry metrics
Background
Solvents have received much attention under the remit of green chemistry [1–5]. This can be ascribed to the large volume of solvent typically used in a reaction (especially at the purification stage) or in a formulation [6, 7]. Despite this, the solvent is not directly responsible for the composition of a reaction product, nor is it the active component of a formulation. Therefore the use of toxic, flammable, or environmentally damaging solvents would seem unnecessary because these characteristics have no impact on the function or progress of the system in which the solvent is applied. However these unfortunate consequences of solvent use are often linked to the beneficial attributes of the solvent needed for the application. The volatility of solvents permits recovery and purification of the solvent by distillation, but also creates unwanted air emissions and the risk of worker exposure. Amide solvents have the high polarity required to dissolve a broad range of substrates and accelerate reactions [8], but this functionality often implies reproductive toxicity [9]. At the other end of the polarity scale hydrocarbon solvents provide the ability to dissolve oils in extractions and perform separations [10, 11], yet at the same time they are highly combustible, and their low water solubility (high logP) is linked to bioaccumulation and aquatic toxicity [12, 13].
In attempts to eliminate undesirable solvents, replacement strategies often seek structurally related compounds not yet covered by the legislative and regulatory measures usually required to force action in this respect. Thus benzene, since its formal recognition as a carcinogen in the mid-twentieth century, is generally replaced by toluene [14, 15]. Similarly the Montreal protocol has restricted the use of carbon tetrachloride since 1989 because of its role in depleting the ozone layer [16, 17]. Typically the halogenated solvents chloroform and dichloromethane (DCM) are now used instead. It is important to emphasise that these measures have proven to be short sighted with respect to increasingly strict chemical controls worldwide. Toluene is in fact suspected of damaging the unborn child and of organ damage through prolonged exposure [18, 19]. Chloroform and DCM are likely to be carcinogenic to humans according to the World Health Organization IARC evaluations [15]. In addition, DCM, even as a short-lived halogenated substance has now been shown to be ozone depleting as well [20].
The European regulation concerning the 'Registration, Evaluation, Authorisation and Restriction of Chemicals' (REACH) has introduced restrictions on toluene, chloroform and DCM with specific conditions (Table
1
) [
21
–
23
]. REACH is now affecting the import and usage of a wide range of chemicals in Europe. Any products found not to comply with the conditions established in REACH are removed from the market through the 'rapid alert system for dangerous non-food products' (RAPEX) information scheme [
24
]. To take just a small sample, in 2015 banned products have included glues containing toluene [
25
], chloroform [
26
], or benzene [
27
], and sometimes in alarmingly significant proportions [
28
].
Solvent

Conditiona

Hazardsb

Toluene

"Shall not be placed on the market, or used, as a substance or in mixtures in a concentration equal to or greater than 0.1 % by weight where the substance or mixture is used in adhesives or spray paints intended for supply to the general public"

May be fatal if swallowed and enters airways (H304)

Suspected of damaging the unborn child (H361d)

May cause damage to organs through prolonged or repeated exposure (H373)

DCM

"Paint strippers containing dichloromethane in a concentration equal to or greater than 0.1 % by weight shall not be placed on the market"

Suspected of causing cancer (H351)

Chloroform

"Shall not be placed on the market, or used, as substances, as constituents of other substances, or in mixtures in concentrations equal to or greater than 0.1 % by weight, where the substance or mixture is intended for supply to the general public and/or is intended for diffusive applications such as in surface cleaning and cleaning of fabric"

Suspected of causing cancer (H351)
Looking ahead to future European bans on solvents, candidate chemicals are placed on a list of 'substances of very high concern' (SVHC) prior to REACH restrictions being imposed [
30
]. Notably for solvent users the amides
N
,
N
-dimethylformamide (DMF),
N
,
N
-dimethylacetamide (DMAc), and
N
-methylpyrrolidinone (NMP), as well as certain hydroxyethers and chlorinated solvents have fallen under scrutiny (Table
2
). Solvents that are similar structurally can be easily sourced as drop-in replacements, but are likely to present many of the same environmental, health, and safety (EHS) problems seen in historical examples of solvent substitution. Environmental agencies in other regions have their own approaches to regulating hazardous chemicals, with solvents strongly impacted because of their VOC status and hence high risk of exposure [
31
].
Table 2
A non-exhaustive list of solvents featured on the REACH candidate list of SVHC [30]
| Solvents on REACH candidate list of SVHC | Hazards (hazard code) |
| --- | --- |
| DMF and DMAc and NMP | May damage fertility or the unborn child. (H360) |
| 1,2,3-Trichloropropane and trichloroethylene and 1,2-dichloroethane | Suspected of causing cancer (H351) |
| Ethylene glycol dimethyl ether (EGDME) and diethylene glycol dimethyl ether (DEGDME) | May damage fertility or the unborn child. (H360) |
| 2-Methoxyethanol and 2-ethoxyethanol and 2-ethoxyethyl acetate | May damage fertility or the unborn child. (H360) |
In an attempt to categorise solvents with respect to their EHS profiles, solvent selection guides have been produced to give more information than the 'black and white' conclusions of regulatory assessments. The scope of this review addresses the substitution of conventional organic solvents with greener, ideally bio-based organic solvents with the help of solvent selection tools. The development of more sophisticated approaches to solvent substitution that also incorporate the performance of the solvent, or the design of tailor-made solvents for an application, will also be alluded to but do not form the basis of significant discussion in the present work.
Conclusions
Past and present solvent selection guides for general use have been reviewed with the aim of clarifying the advantages and limitations of each. Attempts at solvent selection for EHS benefits (rather than just for regulatory compliance) by means of colour coded solvent selection guides demonstrates the growth in understanding surrounding solvent use in recent years. These user friendly tools communicate the issue clearly to users, creating awareness of greener alternatives and discourage the use of certain solvents in favour of others. Large reductions in undesirable solvent use have been reported as a result [48]. For all the positives brought by solvent selection guides, before now they have not been scrutinised closely enough in the reviews on this topic [53, 86]. The necessity to subjectively choose categories and apply different weightings, and the level of interpretation required, means we must assess these tools with the same level of scientific interrogation that chemists would happily apply to more conventional research topics.
Upon completion of the survey of solvent selection guides conducted by Prat et al. [57], our understanding of solvent greenness as chemists, for the conventional solvents at least, would seem to have reassuringly converged (Table 4). The consensus between the solvent selection guides of the major pharmaceutical companies suggests a reasonable level of maturity in the field. Newer solvent selection guides for conventional solvents are essentially now repeating existing tools, reinforcing the consensus. The authors of this work suggest there is no need for more general purpose solvent selection guides of the familiar format because they are no longer providing any significant advancement in this field. The general agreement between solvent selection guides is not an indication that an ultimate and conclusive description of the concept of solvent greenness has been accomplished, but that the solvent selection guide format has reached its potential. The lack of sustainability criteria applied in solvent selection guides indicates that basically all solvent tools are indicative of a narrower set of requirements describing worker health and safety combined with environmental release issues. For instance, not even the renewability of the feedstock is considered in most solvent selection guides. There is an LCA category in the GSK solvent selection guide for process chemists (Fig. 10), but the input data for this assessment is not publicly available [40, 46].
One criticism of solvent selection guides is that the calculation behind the assessment is usually not transparent. Almost all solvent selection guides will combine values derived from unrelated physical properties, raising questions over the weighting of different EHS aspects, where and how to establish threshold values, and the actual meaning of the resulting scores. Openly available methodologies based on regulation thresholds have proven helpful in producing transparent assessments that can be applied to new solvents [32, 56]. Approaches to solvent selection where the methodology is changed to include more or less data have shown the assessment is very sensitive to what criteria are applied [65]. If the methodology is not clearly communicated it cannot be expected that potential users will trust the conclusions.
By whatever means a general purpose solvent selection guide is created, these tools are still unable to specifically guide solvent selection for particular applications. Reaction specific solvent selection guides are now available [87–89], which rank a set of solvents according to the observed performance (not greenness). The requirement of the solvent in chromatography as the mobile phase is so obvious in its importance that solvent guides for this application predate all other tools [90, 91], and has now been revived as a research topic [92, 93]. Technological requirements can be balanced against solvent greenness through general purpose solvent selection guides, and alternative methods of computational solvent optimisation [65, 94]. This approach to separating technological and EHS considerations resolves a problem clearly evident in the CHEM21 solvent selection guide, where benign but high boiling solvents, including glycerol, are considered to have an undesirable environmental impact [56]. It is true that the recycling of low boiling, water immiscible solvents is lower in energy demand than other solvents [32]. However, a high boiling (and water miscible) solvent is greener in terms of its inherent solvent properties because worker exposure risks are less, and environmental impact, specifically aquatic toxicity and persistence, is generally lower too. What is clear is that alternatives to distillation, such as membrane separation need to be developed further [95]. New chemical systems such as tunable solvents can avoid distillation completely [6, 74], but for now are beyond the scope of solvent selection guides. The balance between opposing considerations is difficult to perfect, but to adequately communicate this to the user of the solvent selection guide is perhaps harder still. It is also true that the impact of a solvent depends on the industry in which it is used and how strict the controls on solvent emissions and waste are. This must also be considered by solvent users.
The future of solvent selection will inevitably require a greater sophistication in how solvents are chosen on the basis of a sustainable supply chain, and more work is needed in the area of application specific tools and life cycle assessments [96]. To do this more data will be required, especially for new solvents regarding their physical properties and their environmental impact. The role of the general purpose solvent selection guide is now only to expand its coverage to neoteric solvents so that they may be judged on a par with conventional solvents, and consequently stimulate research into the design of new solvents [97].
Postscript
After the original submission of this review, the GSK solvent selection guide [46], was updated featuring a new format [98]. More solvents have been added, and the categories for the numerical scoring system have been expanded. Whereas before the overall impacts were scored, such as 'waste' (Fig. 9), now the individual categories receive a score (incineration, biological treatment, etc.). In addition an overall colour coding of every solvent is provided. Regarding dipolar aprotic solvents, none are considered green, and only DMPU, DMSO, 1,3-dimethyl-2-imidazolidinone, acetonitrile and propanenitrile have a yellow colour coding. Sulpholane and the remaining nitrogen containing dipolar aprotic solvents are shaded in red. Some of the new (bio-based) solvents introduced since the previous update are limonene (yellow), ethyl lactate (green), and cyrene (yellow). The supplementary information that accompanies the latest GSK solvent selection guide publication gives a detailed description of how the solvent scores were arrived at.
Abbreviations
ACS:

American Chemical Society
BCF:

bio-concentration factor
BOD:

biological oxygen demand
CED:

cumulative energy demand
CLP:

classification, labelling and packaging
CPME:

cyclopentyl methyl ether
DCE:

1,2-dichloroethane
DCM:

dichloromethane
DEGDME:

diethylene glycol dimethyl ether
DMAc:

N,N-dimethylacetamide
DME:

dimethoxyethane
DMF:

N,N-dimethylformamide
DMPU:

dimethyl propylene urea
DMSO:

dimethyl sulphoxide
EGDME:

ethylene glycol dimethyl ether
EHS:

environmental, health and safety
ETBE:

ethyl t-butyl ether
FAME:

fatty acid methyl ether
GCI:

Green Chemistry Institute
GHS:

Global Harmonized System
GSK:

GlaxoSmithKline
IARC:

International agency for research on cancer
ICH:

International Conference on Harmonisation
IMI:

innovative medicines initiative
KOA :

octanol-air partition coefficient
KOW :

octanol-water partition coefficient
LC50 :

lethal concentration (50 % test population)
LCA:

life cycle assessment
LD50 :

lethal dose (50 % test population)
2-MeTHF:

2-methyltetrahydrofuran
MEK:

methyl ethyl ketone
MIBK:

methyl isobutyl ketone
MJ:

megajoules
NOEL:

no observed effect limit
NMP:

N-methylpyrrolidinone
PhCl:

chlorobenzene
POCP:

photochemical ozone creation potential
REACH:

registration, evaluation, authorisation and restriction of chemicals
RAPEX:

rapid alert system for dangerous non-food products
TAME:

t-amyl methyl ether
TBME:

tert-butyl methyl ether
THF:

tetrahydrofuran
THFA:

tetrahydrofurfuryl alcohol
SVHC:

substances of very high concern
VOC:

volatile organic compound
Declarations
Authors' contributions
FPB, SJ, GP and THMP reviewed the literature and produced the case studies detailing each solvent selection guide. JS analysed the outcome of each solvent selection guide and produced the comparisons found in this review, which were then revised with further input from GP and FPB. JHC, TJF, AJH and CRMc supervised the researchers preparing this manuscript and have reviewed and commented on this document during its development. JS organised the author contributions and lead the writing of the manuscript. All authors read and approved the final manuscript.
Competing interests
The authors of this manuscript have personally contributed to some of the solvent selection guides featured in this review. JS is a co-author of a previous version of the GSK solvent selection guide. CRMc is a co-author of the CHEM21 selection guide of classical- and less classical-solvents. GP is funded by the CHEM21 project which produced a number of the tools reviewed here. The manuscript is not foreseen to create any competitive or financial gain or loss to any person or institution, nor was it the intention to do so.
Open AccessThis article is distributed under the terms of the Creative Commons Attribution 4.0 International License (http://creativecommons.org/licenses/by/4.0/), which permits unrestricted use, distribution, and reproduction in any medium, provided you give appropriate credit to the original author(s) and the source, provide a link to the Creative Commons license, and indicate if changes were made. The Creative Commons Public Domain Dedication waiver (http://creativecommons.org/publicdomain/zero/1.0/) applies to the data made available in this article, unless otherwise stated.
Authors' Affiliations
(1)
Green Chemistry Centre of Excellence, Department of Chemistry, University of York, York, UK