Enzyme promiscuity: using the dark side of enzyme specificity in white biotechnology
Sustainable Chemical Processes
2014
2:25
Received: 27 August 2014
Accepted: 10 December 2014
Published: 31 December 2014
Abstract
Enzyme promiscuity can be classified into substrate promiscuity, condition promiscuity and catalytic promiscuity. Enzyme promiscuity results in far larger ranges of organic compounds which can be obtained by biocatalysis. While early examples mostly involved use of lipases, more recent literature shows that catalytic promiscuity occurs more widely and many other classes of enzymes can be used to obtain diverse kinds of molecules. This is of immense relevance in the context of white biotechnology as enzyme catalysed reactions use greener conditions.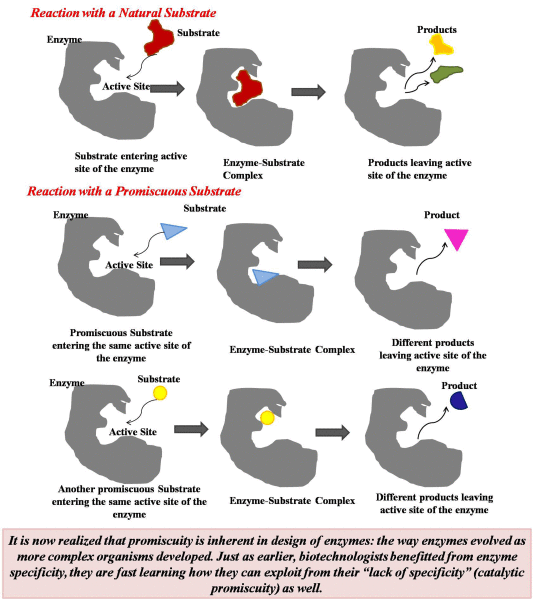 Keywords
Enzyme specificityCatalytic promiscuityEnzymes in organic synthesisEnantioselectivityGreen chemistry
"I suspect they put Socrates to death because there is something terribly unattractive, alienating and non-human in thinking with too much clarity."-
The Bed of Procrustes by Nassim Nicholas Taleb
Introduction
The basic tenet of white biotechnology is to minimize damage to the environment rather than taking recourse to remediation as an "end of the pipe" solution [1],[2]. Enzymes either in isolated form or in the form of whole cells can play an important role because of their two well known virtues. The biocatalysts normally do not require high temperature or other conditions which involve high consumption of energy. The biocatalysts are believed to be fairly specific, which would mean less number of side reactions. Side reactions lead to side products which lower the atom economy of the reactions. These side reactions hence lower the yield of the desired product (making the catalysis less efficient) and necessitate complicated downstream processing.
This review discusses the paradigm shifts over the years in our understanding of the enzyme specificity. It also explains why so called lack of specificity is also a good news as far as the usefulness of enzymes in biotechnology is concerned. The most dramatic departure from the classical concept of enzyme specificity is seen in the phenomenon of catalytic promiscuity. This refers to the same enzyme catalyzing very different kinds of biotransformations [3]-[6].
Conclusions
Few trends are clear. While during early few years, examples of catalytic promiscuity were mostly concerned with applications of lipases; last few years have seen other classes of enzymes (other hydrolases, oxidoreductases, transferases etc.) being equally capable of showing catalytic promiscuity.
The shift from our belief in enzyme specificity to the realization that these biocatalysts are fairly promiscuous has not been gradual. Some key milestones can be identified. We accepted the idea of broad specificity (lately called relaxed specificity) long ago. Isoforms or isoenzymes, the enzymes from the same organism, carrying similar catalytic activity but with different specificity and kinetic behaviour have been again known since several decades [5]. The catalysis starts with molecular recognition of the "substrate" by the enzyme. The binding site, part of the active centre was known to show promiscuous behaviour when textile dyes emerged as powerful affinity ligands [89]. The catalytic promiscuity largely arises because many different "substrates" can interact with different side chains of amino acids to result in different transition states.
This is akin to a general practitioner becoming a specialist in medical science but retaining enough knowledge of how to treat many diseases. In the beginning, we had RNA world [90]. Then came early enzymes. As complex metabolisms were required with evolution of more complex organisms, more specialised enzymes emerged. These enzymes did not forget entirely what their ancestors were capable of.
White biotechnology can definitely profit by exploiting many of the catalytic powers which enzymes did not entirely "forget"! This overview has looked at the proverbial "tip of the iceberg". Hopefully, it will draw attention of many biotechnologists to look at the huge iceberg of potential application of these green catalysts to nurture sustainable approaches in chemical industries.
Declarations
Acknowledgements
We thank Prof. Prashant Mishra for his interest in this work and several related discussions. We acknowledge financial support from the Government of India's Department of Science and Technology (DST) [Grant No.: SR/SO/BB-68/2010]. BA and JM thank the Council of Scientific and Industrial Research for the Senior Research Fellowship.
Authors' Affiliations
(1)
Department of Chemistry, Indian Institute of Technology, Delhi, Hauz Khas, India
(2)
Department of Biochemical Engineering and Biotechnology, Indian Institute of Technology Delhi, Hauz Khas, India
Copyright
© Arora et al.; licensee Springer. 2014
This article is published under license to BioMed Central Ltd. This is an Open Access article distributed under the terms of the Creative Commons Attribution License (http://creativecommons.org/licenses/by/4.0), which permits unrestricted use, distribution, and reproduction in any medium, provided the original work is properly credited. The Creative Commons Public Domain Dedication waiver (http://creativecommons.org/publicdomain/zero/1.0/) applies to the data made available in this article, unless otherwise stated.