Research article
Open Access
Butadiene sulfone as 'volatile', recyclable dipolar, aprotic solvent for conducting substitution and cycloaddition reactions
Sustainable Chemical Processes
2015
3:13
Received: 10 June 2015
Accepted: 31 July 2015
Published: 27 August 2015
Abstract
Butadiene sulfone has been employed as a "volatile", recyclable dipolar, aprotic solvent in the reaction of benzyl halide with metal azides to form benzyl azide (1) and the subsequent reaction of benzyl azide with p-toluenesulfonyl cyanide (3) to produce 1-benzyl-5-(p-toluenesulfonyl)tetrazole (2). Comparisons are made with the solvent DMSO and an analogous sulfolene solvent—piperylene sulfone. In addition, recycling protocols for butadiene sulfone and piperylene sulfone are also presented.
Keywords
Butadiene sulfonePiperylene sulfoneSulfolenesRecyclable dipolar aprotic solventTetrazolesSustainableGreenDMSO
Background
Dimethylsulfoxide (DMSO) is an outstanding solvent for conducting a wide variety of organic reactions. Its specific dipolar, aprotic properties allow for the dissolution of a range of organic molecules and ionic species. Unfortunately, the isolation of reaction products and the recyclability of the solvent is often times difficult as well as economically expensive. Recently a couple of sulfolene solvents have been proposed as possible recyclable substitutes for DMSO [
1
–
6
]. Piperylene sulfone is a liquid at room temperature and butadiene sulfone is a liquid at 64 °C. Both possess similar properties to that of DMSO. Unlike DMSO, however, each of these solvents can undergo a thermally promoted reversible retro-cheletropic process to form SO
2
and the respective diene (Fig.
1
). This reversible characteristic provides a strategy for both solvent removal from the products of reaction as well as solvent recovery and reuse. Piperylene sulfone undergoes a smooth reversal at 110 °C while butadiene sulfone requires temperatures in the 135–140 °C range. In both cases the gaseous diene and SO
2
can be captured by condensing at low temperatures (−76 °C) and reacting at room temperature to reform the original sulfolene solvent.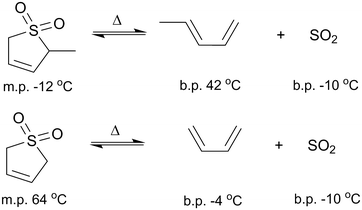 Several reports have employed sulfolenes as primary solvents for conducting various organic reactions along with the subsequent recycling of the solvent. Vinci et al. [5] reported the substitution reactions and associated rates of a wide variety of nucleophiles with benzyl chloride in both DMSO and in piperylene sulfone solvent. In general the reactions conducted in DMSO proceeded at faster rates than those in piperylene sulfone. It was discovered, however, that the addition of trace quantities of water (1–3 %) added to piperylene sulfone increased the rates of the nucleophilic substitution reactions. Furthermore, the reaction of benzyl chloride with thiocyanate ion in piperylene sulfone resulted in a 96 % isolated yield of benzyl thiocyanate upon reversal of piperylene sulfone to gaseous SO2 and piperylene. The reformation and recovery of piperylene sulfone solvent was also demonstrated with 87 % efficiency [5]; a clear demonstration of the sulfolene's advantage over its DMSO counterpart. Ragauskas et al. [2] reported the TEMPO oxidation of substituted benzyl alcohols to benzaldehydes in piperylene sulfone. Not only were the product yields as high as the reactions conducted in DMSO but, in addition, the turn-over frequencies (TOF) were greater.
Herein is reported a reaction sequence which exemplifies the potential superiority of sulfolene solvents over DMSO. Specifically, the synthesis of 1-benzyl-5-(
p
-toluenesulfonyl) tetrazole (2) in piperylene sulfone (PS) and butadiene sulfone (BS) via a two-step process is reported (Scheme
1
). The first step involves the reaction of azide with benzyl chloride or benzyl bromide to form the corresponding benzyl azide. The second step involves the cycloaddition reaction of benzyl azide with
p
-toluenesulfonyl cyanide (TsCN, 2). Each of these reactions was investigated individually and in tandem in both DMSO and a sulfolene solvent. In addition, a detailed protocol is presented for the recycling of the sulfolene solvents (piperylene and butadiene sulfones).

Experimental
Materials
Piperylene (cis- and trans- mixutres) (97 %) was purchased from TCI America (Portland, OR, USA). Sulfur dioxide (>99.9 %) was purchased from Airgas (Kennesaw, GA, USA), Sigma-Aldrich (St. Louis, MO, USA) and Matheson (Montgomeryville, PA, USA). p-Toluenesulfonyl cyanide (>95 %) was purchased from AK Scientific, Inc (Union City, CA, USA) and Accel Pharmtech, LLC (East Brunswick, NJ, USA). Benzyl bromide (98 %), benzyl chloride (98 %), cesium azide (99.99 %), sodium azide (99.5 %) and dimethyl sulfoxide (99.9 %) were obtained from Sigma-Aldrich (St. Louis, MO, USA). Butadiene sulfone (98 %) and all other chemicals were purchased from VWR International (Suwanee, GA, USA). All compounds were used as received. Authentic samples of benzyl azide were prepared in lab batches (see Additional file 1).
Synthesis of piperylene sulfone (PS)
Piperylene sulfone was synthesized in large quantities (200–500 mL) from piperylene (cis- and trans- mixture) (200–630 mL) and sulfur dioxide (12 eq.) using 8-anilino-1-naphthalenesulfonic acid hemi-magnesium salt (0.012 eq.) as a polymerization inhibitor [3, 7]. The inhibitor was weighed and added to an Ace-Glass 5 L glass reactor. The experimental apparatus was then purged with N2. The reactor was filled with 2 atm of vapour SO2 and purged to remove N2, this process was repeated three times. Liquid SO2 was allowed to flow into the reactor while keeping the temperature at −30 °C or less. Once, all the desired amount of SO2 was introduced, the piperylene was added into the reactor using an air tight syringe. The reactor was then sealed and allowed to warm up to room temperature around 21 °C.
The reaction was carried for at least 15 h after which the excess SO2 was vented and collected in a bubbler containing 2.2 L of saturated potassium carbonate (K2CO3) solution, yielding an orange slurry product mixture. The mixture was sparged with N2 to further remove residual SO2. Water saturated with sodium chloride was added to the reactor and the aqueous phase was extracted with dichloromethane three times. Ethyl ether (1/3, v/v) was added to the combined organic phase as an anti-solvent to precipitate the inhibitor. The resulting liquid was dried over MgSO4, and then filtered. A clear yellow liquid was obtained after evaporating the ethyl ether and dichloromethane under reduced pressure, affording 78 % yield of PS based on the trans isomer content. The resulting piperylene sulfone was characterized by 1H and 13C NMR to verify nearly pure production.
Recycling of sulfolenes
The recycle of sulfolene solvents was demonstrated by beginning with a certain quantity of sulfolene, thermally decomposing it, and subsequently reforming it. The difference between the initial and final weights was designated as the percent recovery. The experiments were conducted in the prototype apparatus described in Fig.
2
. Reactors R-1 and R-2 are Ace-Glass pressure tubes which could be easily removed and reattached to the setup. Both reactors were weighted before recycling. A desired amount of sulfolene was first added to R-1 (1 % by weight hydroquinone with regard to BS was added to R-2 for recycling of BS); the system was then purged with N
2
. Liquid SO
2
was introduced into R-2, which was kept cold using a dry ice/isopropanol bath. When the desired amount of liquid SO
2
was introduced, the extra SO
2
was released through the base bath B-1. The decomposition flask was heated with an oil bath to the desired temperature, 120 °C for PS and 135 °C for BS. During the decomposition process, the reformation flask was kept between −76 and −55 °C (Table
1
) to trap the volatile dienes and SO
2
. N
2
was allowed to enter from V-5 towards B-1 to maintain a constant near atmospheric pressure and drive the decomposition products from R-1 to R-2. It should be noted that the line connecting R-1 to R-2 was heated during the decomposition process. In the case of PS, the tube was kept above 42 °C to prevent condensation of piperylene and polymerization in the lines; for BS, the tube was maintained at 70 °C to prevent clogging from solid BS reforming inside the tube. When reactor R-1 was completely empty, 100 mL/min of N
2
were allowed to enter from V-1 to further transport volatile products to R-2; this final wash was performed for at least 30 min. Reactor R-2 was then sealed and allowed to warm to room temperature.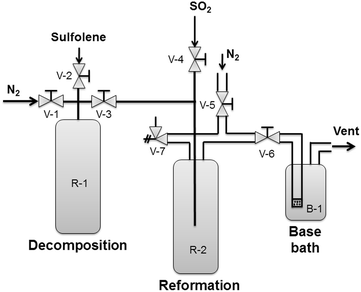 Table 1
Recycling results of sulfolene solvents
| Entry | Solvent | Scale (mL) | SO2/diene molar ratio | Cold bath (°C) | Recovered solvent (%) |
| --- | --- | --- | --- | --- | --- |
| 1 | PS | 5 | 8 | −55 | 89 ± 2 |
| 2 | PS | 20 | 6 | −60 | 98 ± 0 |
| 3 | BS | 20 | 6 | −76 | 95 ± 1a |
The reformation reaction was carried for at least 40 h. During that time a pressure relief valve (V-7) ensured that the entire system was held under the pressure rating for the glass reactors. Upon conclusion, excess SO2 was vented through B-1 until no bubbling was observed. The sulfolenes were sparged with N2 to remove residual SO2; BS had to be heated to 70 °C to prevent crystallization during sparging. The reformed sulfolene was weighted to obtain a recovery measurement. See Table 1 for recovery yields.
Reaction of benzyl halide with azide
Two concentrations for substitution reaction (S
N
2) were investigated in this study. A lower concentration (0.7 M, 0.85 mmol) of benzyl halides was used to optimize reaction conditions and a higher concentration (2.5 M, 3.5 mmol) of benzyl halides was used to determine accurate isolated yields. Sodium or cesium azide (0.93 or 3.8 mmol), biphenyl (internal standard, 0.37 mmol) and liquid piperylene sulfone (1 mL) or solid butadiene sulfone (1.3 g) were first added to a two-dram vial. The heterogeneous mixture was heated at 60 °C with vigorous agitation for 2 h in order to precondition the salt. Benzyl chloride or benzyl bromide (0.85 or 4.2 mmol) was then introduced into the mixture to initiate reaction. Samples of 0.05–0.1 mL were taken hourly for the first 3 h. The samples were diluted with 1 mL of benzene and filtered with a syringe filter before GC-FID analysis. The GC oven temperature was ramped from 90.0 to 300 °C at a heating rate of 15 °C/min. The GC injector was held at a constant temperature of 300 °C. For NMR analysis, the same amount of sample was diluted with 0.5 mL of DMSO-D
6
, and then filtered with a syringe filter. Reactions for synthesis of benzyl azide were all run in duplicate, and Table
2
includes the reaction yields.
Table 2
Nucleophillic substitution reaction of benzyl halides with inorganic azide salts in sulfolenes and DMSO
Entry

Solvent

Reactants

Reaction time (h)

Yielda (%)

1

DMSO [8]

BnBr, NaAz

1

98

2

PS

BnCl, NaAz

3

6 ± 0

3

BS

BnCl, NaAz

1

3

49 ± 5

86 ± 4

4

BS

BnCl, 1.5 NaAz

1

3

65 ± 2

93 ± 1

5

DMSO (1 % H2O)b

BnCl, NaAz

1

97 ± 0

6

BS (1 % H2O)

BnCl, NaAz

1

3

93 ± 1

95 ± 1

7

BS (1 % H2O)

BnCl, CsAz

1

96 ± 0

8

BS

BnBr, NaAz

1

100c
Reaction of benzyl azide (1) with p-toluenesulfonyl cyanide (3)
Benzyl azide (1.09 g, 8.19 mmol), TsCN (1.63 g, 9.00 mmol) and BS (3.05 g, 25.81 mmol) were all added to a three neck round bottom flask and heated to the designated reaction temperature. At the end of the predefined reaction time, the reaction was cooled and the contents in the flask were dissolved in acetone. Samples for NMR analysis were taken from the acetone solution. A known amount of dimethyl sulfone was added to the samples as an internal standard for NMR quantitation.
Product isolation was carried out for selected high yield reactions. The post reaction mixture containing product was heated to 135 °C for approximately 2 h in order to promote the decomposition of the sulfolene; after approximately 2 h the bubbling had ceased. The product residue was a brown liquid which solidified upon cooling. Methanol (4 mL) and ethyl ether (1 mL) were added and stirred overnight to extract impurities from the solid. The mixture was cooled in an ice/water bath and filtered. The solid was then recovered and washed once more with the methanol-ether mixture. After filtration and drying, a cream colored powder (compound 3) was obtained (see Table
3
for yields and conversions). DSC: m.p. = 136 °C, ΔH = 106.0 J/g.
1
H NMR (DMSO-d
6
, ppm): δ = 2.40 (s, 3H), 6.00 (s, 2H), 7.24–7.27 (m, 2H), 7.36–7.39 (m, 3H), 7.46 (d,
J
= 8.1 Hz, 2H), 7.83 (d,
J
= 8.4 Hz, 2H).
13
C NMR (DMSO-d
6
, ppm): δ = 21.23, 52.67, 127.97, 128.67, 128.69, 128.91, 130.53, 133.56, 133.87, 147.46, 154.29. ESI–MS (
m
/
z
): 315 [M + H]
+
, 332 [M + H
2
O]
+
.
Table 3
Synthesis of compound 3 through [2 + 3] cycloaddition of p-toluenesulfonyl cyanide (3) and benzyl azide (1)
| Entry | Solvent | Temp (°C) | Time (days) | Yield (%) | Conv. 1 (%) | Conv. 2 (%) |
| --- | --- | --- | --- | --- | --- | --- |
| 1 | DMSO | 50 | 4 | 30 ± 1 | 100 ± 0 | 47 ± 1 |
| 2 | BS | 70 | 1 | 70 ± 2 | 99.2 ± 0.1 | 89 ± 1 |
| 3 | BS | 50 | 1 | 50 ± 1 | 57 ± 2 | 51 ± 2 |
| 4 | BS | 50 | 4 | 77 ± 1 | 95 ± 1 | 91 ± 4 |
| 5 | BS | 50–60 | 4a | 82 ± 2b | 99 ± 1 | 93 ± 2 |
Tandem, two-step synthesis of 1-benzyl-5-(p-toluenesulfonyl) tetrazole (2)
Benzyl bromide (0.641 g, 3.75 mmol), sodium azide (0.269 g, 4.14 mmol), BS (1.315 g, 11.13 mmol) and biphenyl (0.06 g, GC internal standard) were added to a 2 dram vial. The reaction was allowed to react for 3 h at 60 °C. The reaction mixture was filtered hot using a syringe filter and added to a second vial containing TsCN (0.750 g, 4.14 mmol). The cycloaddition reaction was allowed to run for 2 days at 50 °C and 2 days at 60 °C. The reaction mixture was then cooled at which point the product solidified; dimethyl sulfone was added as an internal standard for NMR. The contents of the vial were dissolved in acetone and DMSO-d6 and samples were analysed by NMR, and a yield of 72 ± 5 % 1-benzyl-5-(p-toluenesulfonyl) tetrazole (2) was obtained.
Conclusions
In conclusion, piperylene sulfone and butadiene sulfone have been shown to be recyclable solvents as a consequence of the reversible reactions between SO2 and the respective diene. They are dipolar, aprotic solvents and serve as potential substitutes for DMSO. This is especially true for BS in the synthesis of organic azides by nucleophilic substitution and, tetrazoles by the reaction of organic azides with p-toluenesulfonyl cyanide (3). Both reactions using sulfolene solvent have noticeable advantages: operational simplicity, low cost and environmental safety.
Abbreviations
DMSO:

dimethyl sulfoxide
PS:

piperylene sulfone
BS:

butadiene sulfone
TsCN:

p-toluenesulfonyl cyanide
BnAz:

benzyl azide
Declarations
Authors' contributions
The reported work is a collaboration between researchers at Dow Chemical Company and the Research Teams of CLL, CAE and PP. YH and EU contributed equally: Experimentally determined, conducted and interpreted the bulk of the data on the synthesis of benzyl azide, the synthesis of the tetrazole and the drafting of this manuscript. FM aided in the synthesis of the piperylene sulfone, provided technically input and revised the manuscript. AB and ZC contributed experimentally to all aspects of the work while JF, BH and CAE contributed to the design of experiments. PP and CLL oversaw the entire research study and coordinated the redaction of the manuscript. All authors read and approved the final manuscript.
Acknowledgements
We are grateful for financial support from The Dow Chemical Company.
Compliance with ethical guidelines
Competing interests The authors declare that they have no competing interests.
Open AccessThis article is distributed under the terms of the Creative Commons Attribution 4.0 International License (http://creativecommons.org/licenses/by/4.0/), which permits unrestricted use, distribution, and reproduction in any medium, provided you give appropriate credit to the original author(s) and the source, provide a link to the Creative Commons license, and indicate if changes were made. The Creative Commons Public Domain Dedication waiver (http://creativecommons.org/publicdomain/zero/1.0/) applies to the data made available in this article, unless otherwise stated.
Authors' Affiliations
(1)
School of Chemical and Biomolecular Engineering, Georgia Institute of Technology, Atlanta, USA
(2)
School of Chemistry and Biochemistry, Georgia Institute of Technology, Atlanta, USA
(3)
Specialty Separations Center, Georgia Institute of Technology, Atlanta, USA
(4)
The Dow Chemical Company, Midland, USA