Research article
Open Access
Progress towards a more sustainable synthetic pathway to ibuprofen through the use of solar heating
Sustainable Chemical Processes
2016
4:8
Received: 4 December 2015
Accepted: 25 May 2016
Published: 6 June 2016
Abstract
The ACS Green Chemistry Institute Pharmaceutical Roundtable was formed in 2005 to encourage the incorporation of green chemistry techniques into the synthetic pathways of pharmaceuticals. Through this initiative, synthetic pathways of several pharmaceuticals have been altered to adapt more environmentally friendly procedures. The amount of electricity required to complete chemical reactions have become an environmental concern due to depleting fossil fuels. A technique was recently developed in which satellite dishes were repurposed as solar reflectors capable of providing a heat source through solar irradiation. The ability to use the solar reflector as the sole heat source for synthetic reactions has been analyzed for the commercially important pharmaceutical, ibuprofen. Ibuprofen synthesis also incorporates chemicals that are not particularly friendly to the environment. The exchange of these chemicals with more environmentally friendly substitutes has been analyzed. The goal of this study is to incorporate a solar energy heat source to develop an alternative energy, more environmentally friendly pathway to ibuprofen.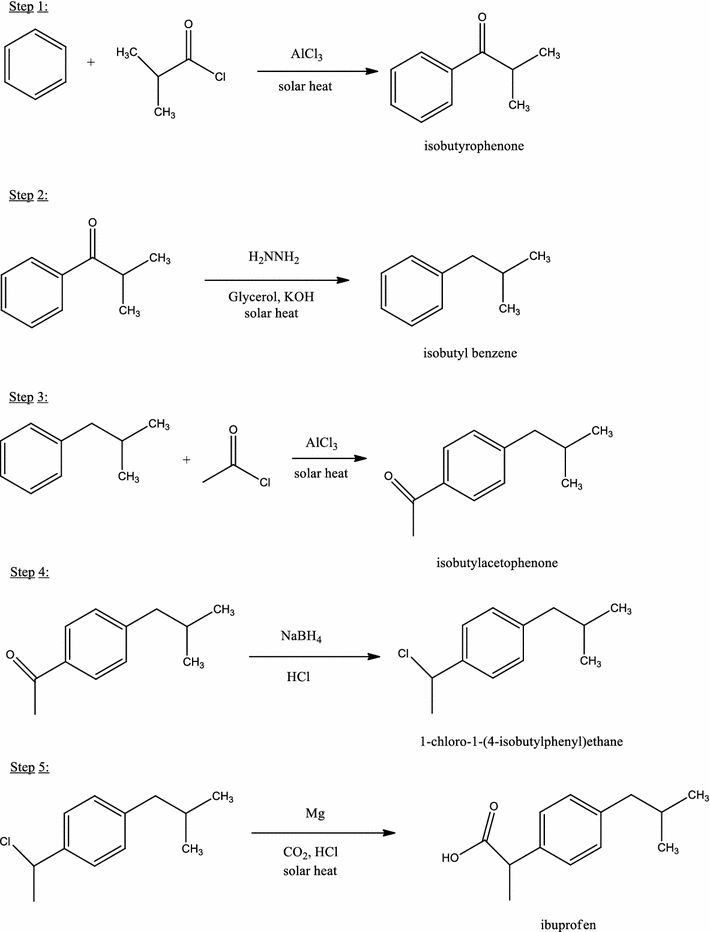 Keywords
Solar organic synthesisSolar reflectorIbuprofen synthesisGreen chemistryReactions and methods
Background
Ibuprofen is a nonsteroidal anti-inflammatory drug that is commonly used worldwide for pain relief and fever/inflammation reduction [1]. It was discovered in the 1960s by Andrew Dunlop, who initially tested the drug on cures for hangovers. The drug was first made available via prescription in 1974 (United States) and soon became available as an over the counter drug purchasable at retail shops around the globe [2].
The synthetic procedure to synthesize ibuprofen was patented by the Boots Pure Drug Company in the 1960s (Fig.
1
). Their synthetic process involved several complicated steps that generated a considerable amount of chemical waste [
3
]. Since the Boots method of synthesizing ibuprofen generated an enormous amount of waste when performed on the industry scale, alternative synthetic routes the drug have became of public interest.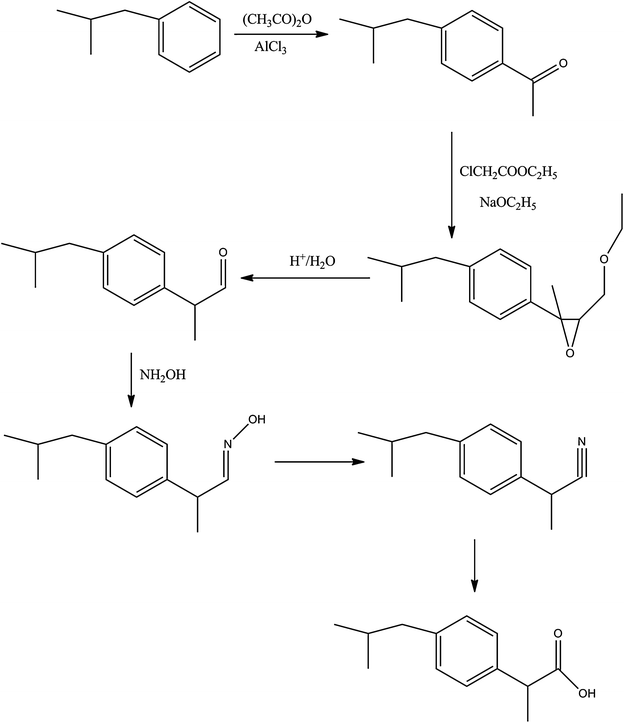 In 1992, BHC Company unveiled a new, alternative process of synthesizing ibuprofen (Fig.
2
) that was much more environmentally friendly and a model of "atom economy" [
4
]. This procedure is now owned by BASF and is used as the synthetic procedure for the production of this pharmaceutical. The plant generates approximately 7.7 million pounds of ibuprofen per year representing about 20–25 % of the global production of this pharmaceutical [
5
].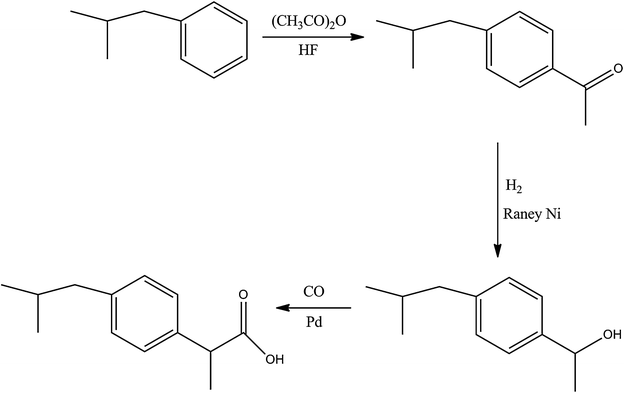 Electricity is needed for most synthetic steps in both the BHC and Boots method of synthesizing ibuprofen. Most of the electricity in the United States is generated from fossil fuels, thus the usage of electricity has some form of environmental impact associated with it. Solar and water-based energy generation processes, which are virtually greenhouse gas emission-free, have been engineered and implemented in various parts of the United States [6]. The solar oven was recently introduced a possible heat source for chemical reactions [7]. However, it has been determined that solar ovens have the capacity to only heat up to approximately 170 °C, far less than some known synthetic reactions [8].
Recently, it was shown that solar energy could be used to perform high temperature chemical reaction as the heat source [9–12]. A solar reflector was designed out of satellite dishes and Mylar® tape, and a Friedel–Crafts acylation reaction was performed using the solar reflector as the sole thermal heat source.
The goal of this study was to synthesize ibuprofen without the use of any fossil fuels for electricity. This particular reaction was chosen based on its current synthetic processes in industry and because advancements in the reaction are currently needed in order to incorporate more sustainable and environmentally friendly techniques. Not only did we intend to modify the synthetic procedure for ibuprofen by using only solar energy as the heat source, but we intended to modify and develop new synthetic techniques that incorporate the use of more environmentally friendly and sustainable chemical reagents to synthetic pathway of ibuprofen. It is hoped, as a result of this work that a synthesis of ibuprofen can be taught in teaching labs as a "green synthesis" experiment or potentially scaled up to fit the needs of industry.
Results and discussion
A solar reflector was designed through the repurposing of satellite dishes into a reflective parabolic mirror to serve as the sole heat source for synthetic chemical reactions [9]. The surface of the satellite dish was completely covered with Mylar® tape to give it reflective properties capable of generating heat when directed at the sun. The feed horn of the satellite dish was removed and reaction flasks were placed in this position in order to achieve maximum intensity from the directed sunlight.
This work demonstrated that the modified solar heat source can be used successfully in the place of an electric heating source. The solar heat source was able to synthesize a commercially important pharmaceutical product from a well-known, high temperature reaction. Furthermore, the solar heat source was observed to be capable of generating reaction yields that were comparable to the same scale reaction performed using an electric heat source. Also seasonal variations do not seem to cause reaction problems as long as sunlight is present. Furthermore, the intensity of the light did not seem to produce any major problems either. As long as the solar irradiation levels were 500 W/m2 or greater, the location, time and day did not seem to affect the results of the solar reactions. Similar results for reactions were obtained during all seasonal periods throughout various times of the day [9–12].
By exposing the round bottom flasks to direct contact with the focal point, a very efficient heating method to provide thermal energy to a chemical reaction without using electricity was established. Through the use of the solar reflector heat source, no electrical waste is being generated since the only energy being used is the energy from the sun, which is renewable.
A Fisher Scientific thermocouple (with a temperature range of −200 °C to +1370 °C) was used to monitor the reflux temperatures. Reaction temperatures were controlled simply by proportioning the solar reflector in order to allow more or less of the focal point to be directed at the center of the flask. If more heat was needed in order to raise the temperature reaction, the focal point should be completely directed at the center of the flask. If a lower, more controlled temperature is desired, the focal point needs to be held slightly off-center, which allows the researcher to easily control the temperature of the reaction through careful monitoring.
The process described in this manuscript also details a method of producing ibuprofen in a much more environmentally friendly manner. All reactions were carried out under air environment conditions and therefore oxygen does not appear to play any role in the reaction process, with the exception of the Grignard reaction. The Grignard reaction is a moisture sensitive reaction, and thus a drying apparatus had to be applied to the set-up to successfully carry out this reaction. We have exchanged non-environmentally friendly chemicals with substitutes that are often bio-degradable, synthesized from renewable feedstocks, and are less hazardous to our environment. Chemicals for this project were purchased from Acros Organics, Sigma-Aldrich Chemical Company, Alfa Aesar, and TCI America. All reagents and solvents used in the research were used without further purification. Table
1
provides a detailed list of all reagents used during the research process. Furthermore, we have developed a method of synthesizing this compound with the use of fossil fuel derived electricity. The incorporation of a solar energy heat source and use of environmentally friendly chemicals has provided a new synthetic pathway to ibuprofen that can be taught in teaching labs as a "green synthesis" experiment or scaled to fit the needs of industrial synthesis.
Table 1
Chemical reagents list
| Chemical | Company | CAS # |
| --- | --- | --- |
| Benzene | Fischer scientific | 71-43-2 |
| Isobutyryl chloride | ACROS organics | 79-30-1 |
| Aluminum chloride | ACROS organics | 7446-70-0 |
| Hydrazine hydrate | Sigma alderich | 10217-52-4 |
| Propylene glycol | ACROS organics | 57-55-6 |
| Ethylene glycol | ACROS organics | 107-21-1 |
| Diethylene glycol | ACROS organics | 111-46-6 |
| Glycerol | ACROS organics | 56-81-5 |
| Potassium hydroxide | Fischer scientific | 1310-58-3 |
| Acetyl chloride | ACROS organics | 75-36-5 |
| Sodium borohydride | ACROS organics | 16940-66-2 |
| Hydrochloric acid | Fischer scientific | 7647-01-0 |
| Methanol | Fischer scientific | 67-56-1 |
| Petroleum ether (30–60) | Fischer scientific | 68476-82-6 |
| Sodium sulfate | Fischer scientific | 7757-82-6 |
| Tetrahydrofuran | Sigma alderich | 109-99-9 |
| Magnesium | Fischer scientific | 7439-95-4 |
| 1,2-dibromoethane | Eastman organic chemicals | 106-93-4 |
| Carbon dioxide | Air gas USA | 124-38-9 |
| Diethyl ether | Fischer scientific | 60-29-7 |
| Sodium hydroxide | Fischer scientific | 1310-73-2 |
| Anthracene | Fischer scientific | 120-12-7 |
| Maleic anhydride | Fischer scientific | 108-31-6 |
| Toluene | Fischer scientific | 108-88-3 |
| Calcium Chloride | Fischer scientific | 10043-52-4 |
As seen in Table
2
, a new synthetic route to ibuprofen has been developed in which each step in the synthetic pathway uses no fossil fuel derived electrical energy. Furthermore, each step in the synthetic pathway has a comparable product yield (within experimental error) when comparing the solar heated procedure to the electrical heated procedure. The only step that appears to have a yield difference not within experimental error is the reaction to synthesize isobutyrophenone. Since the temperatures and reaction times were identical, it can only be assumed that some other factor played a role in the yield difference.
Table 2
Comparison of solar vs. electric technique for complete synthesis of ibuprofen
Compound

Technique

% Yield

Isobutyrophenone

In lab

55

Solar

83

Isobutylbenzene

In lab

67

Solar

62

4′-isobutylacetophenone

In lab

51

Solar

60

1-chloro-1-(4-isobutyphenyl)ethane ibuprofen

In lab

88

In lab

33

Solar

27
Through the use of a P4400 Kill A Watt® power meter [13], it was determined that the amount of energy in kilowatt-hours (KWH) for the total synthesis and purification of ibuprofen using this synthetic technique required approximately 4.0 kWh. Since no electricity is consumed when using solar energy as the thermal heat source, the only electrical requirements for this process would be that from the purification step (0.13 kWh for vacuum distillation). Thus, using the current step-up as proposed, approximately 3.5 kWh of energy is saved for the entire synthesis of ibuprofen. This result would be observed on both small scale reactions as reported or for industrial scale reactions. The only difference when comparing the small scale reactions to industry scale reactions is that the KWH for the synthetic and purification steps would scale due to the larger volume. However, by using the solar reflector thermal heat source, all electricity usage for the synthetic process would be removed, and the only energy consumption would come from the purification process.
Safety concerns arose concerning reactions being performed at elevated temperatures outside of the confines of a chemical fume hood. Since the chemical reactions are being performed outside, the fumes generated during the reactions escaped into the environment just as they would if the reaction was performed inside a fume hood. In the case of using the solar reflector as a heat source, the outside environment acts as a "natural" fume hood to disperse the fumes. As long as the researchers are not constantly standing directly over the openings of the reaction, expose to fume levels are no more than students working on a bench top in an undergraduate chemical laboratory.
Conclusion
When comparing the reactants used for the synthesis of ibuprofen in this study to the Boots and BHC methods, several intriguing observations can be made concerning the safety hazards for all reactants involved. The BHC method uses several chemicals that are not environmentally friendly including hydrofluoric acid and Raney Nickel. Hydrofluoric acid is a highly corrosive liquid and a contact poison whose vapors can penetrate tissue [16]. Raney Nickel, though not as severe of a health hazard, is a pyrophoric material that must be handled under inert atmosphere [17]. One of the positive features of the BHC method is that there is practically no waste generation for this process and therefore, it has a very good atom economy. The Boots method of synthesizing ibuprofen also consists of several environmentally hazardous reagents. This synthetic pathway utilizes hydroxylamine, which must be handled with care since it can explode upon heating [18]. Furthermore, this reagent is an irritant that can absorb through the skin causing cellular mutations.Through the use of the synthetic pathway to ibuprofen proposed in this manuscript, we have reduced the use of toxic chemicals (along with the elimination of fossil fuel derived electricity use). Reagents that are commonly listed as irritants are still used in this pathway (aluminum chloride, acetyl chloride) [19, 20, 21]. The reagent that poses the most environmental/health concerns throughout this process is hydrazine. Hydrazine is a highly toxic, corrosive liquid that has several adverse health effects [22]. However, in our process, we were able to successfully exchange hydrazine for hydrazine hydrate. The hydrate form is still considered to be hazardous upon human contact, but health hazards are greatly reduced when compared to hydrazine [23].
In the future, we plan on continuing to look at this process to make it more of a green synthetic process by reducing the volume of waste generated by this process and increasing its atom economy. One area of interest in continuing this project would be the attempted replacement of aluminum chloride in the Friedel–Crafts acylation with a more environmentally friendly alternative. During the process of this reaction, the aluminum chloride is converted to aluminum hydroxide, which is filtered off as a cake of solid waste. Since waste products are generated, this process needs to be modified in order to increase its atom economy. We are also attempting to modify conditions at every step in the synthesis to optimize overall yield.
Furthermore, we plan to continue attempting to extend the efficiency of the solar reflector as a heat source. One area that is currently being investigated is the scalability of the solar reflector. We are attempting to determine if there is a point at which our method of direct solar heating could not provide enough thermal heat to successfully drive chemical reactions to completion. Other well know chemical reactions are also currently being investigated using the solar reflector, as well as multi-step organic synthesis reactions used to synthesize commercial products that are highly valued by the general public. The results of using our solar reflector in other organic synthesis reactions, and its further development is also being studied.
Declarations
Authors' contributions
BA carried out the synthesis, purification, characterization of the compounds, and aided in drafting the manuscript. GM carried out the GC/MS characterization of the compounds. DS conceived of the study, and participated in its design, aided in the synthesis of the compounds, and helped to draft the manuscript. All authors read and approved the final manuscript.
Acknowledgements
We wish to thank Tennessee Technological University (Student Research Development Grant) for funding this research.
Competing interests
The authors declare that they have no competing interests.
Open AccessThis article is distributed under the terms of the Creative Commons Attribution 4.0 International License (http://creativecommons.org/licenses/by/4.0/), which permits unrestricted use, distribution, and reproduction in any medium, provided you give appropriate credit to the original author(s) and the source, provide a link to the Creative Commons license, and indicate if changes were made. The Creative Commons Public Domain Dedication waiver (http://creativecommons.org/publicdomain/zero/1.0/) applies to the data made available in this article, unless otherwise stated.
Authors' Affiliations
(1)
Department of Chemistry, Tennessee Technological University, Cookeville, USA