Integrated enzymatic catalysis for biomass deconstruction: a partnership for a sustainable future
Sustainable Chemical Processes
2015
3:4
Received: 1 December 2014
Accepted: 17 March 2015
Published: 27 March 2015
Plant cell walls represent a largely abundant source of renewable carbon in the biosphere. The inherent complexity of fractions including cellulose and lignin requires several deconstruction strategies to release structural polysaccharides for suitable applications. Cellulose and chitin are two highly abundant biopolymer resources with a significant physicochemical recalcitrance, which limits their rapid and cost-effective degradation. Plants indeed evolved considerable defense mechanisms against deconstruction of their cell wall polysaccharides into sugars, and, as such, lignocellulosics depolymerization to various simple fractions (e.g. sugars) for subsequent biological or catalytic conversion to fuels has been the focus of intensive research endeavors in past years.
Recent biocatalytic attempts to valorize lignocellulosic biomass for the production of chemicals and biofuels have focused on identifying enzymes with enhanced hydrolytic capabilities [1]. In nature, many microorganisms produce "free enzyme" cocktails of individual enzymes that work synergistically to depolymerize biomass [2-4]. Cellulolytic and hemicellulolytic enzymes able to deconstruct celluloses and hemicelluloses into fermentable sugars can facilitate the use of a plentiful source of renewable carbon.
Enzymatic cellulose decomposition primarily relies on glycoside hydrolases (GHs) and oxidative enzymes. GHs catalyze the cleavage of glycosidic linkages located between adjacent carbohydrate residues. Figure
1
illustrates the complementary actions of different cellulases (A) and hemicellulases (B) on the enzymatic degradation of cellulose and hemicelluloses respectively. The microstructure and treatment of plant biomass using different hydrolase enzymes, as well as understating the role of active site structures from hydrolytic and oxidative enzymes (and their overall impact on the biomass degradation process), is of utmost importance.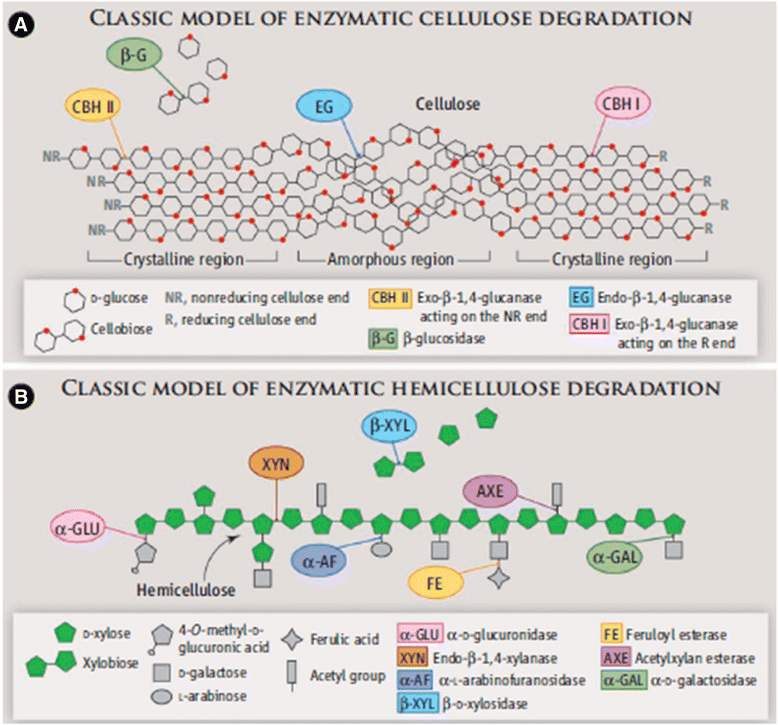 Scientists from National Renewable Energy Laboratory (NREL), USA have significantly contributed to advances in the field of biological conversion of lignocellulosic feedstocks into liquid fuels in the past decades. Between 1999 and 2012, NREL conducted extensive studies to quantify the economic implications associated with measured conversion-performance for the biochemical production of cellulosic ethanol. A goal for pilot-scale demonstration by 2012 of biochemical ethanol production was set at a price competitive with petroleum gasoline, which was successfully achieved through NREL's 2012 pilot plant demonstration runs.
(1)
Laboratory of Catalysis, Department of Chemistry, University of Delhi, North Campus, Delhi, 110007, India
(2)
Departamento de Quimica Organica, Universidad de Cordoba, Campus de Rabanales, Edificio Marie Curie (C-3), Ctra Nnal IV-A, Km 396, 14014 Cordoba, Spain
© De and Luque; licensee Springer. 2015
This is an Open Access article distributed under the terms of the Creative Commons Attribution License (http://creativecommons.org/licenses/by/4.0), which permits unrestricted use, distribution, and reproduction in any medium, provided the original work is properly credited.