Continuous flow transformations of glycerol to valuable products: an overview
Sustainable Chemical Processes
2014
2:1
Received: 9 November 2013
Accepted: 3 January 2014
Published: 10 January 2014
Society faces daunting challenges for the 21st century. Resource, food and water scarcity combined with an ever increasing population, decreasing of fossil fuel resources and increasing energy demands for the next years to come are some of the prospects for future generations. There is an ever increasing pressure on scientists, governments and politicians to enforce and promote more sustainable practises for a switch to a bio-based future society. This is however not an easy task and requires of significant multidisciplinary joint efforts from various disciplines directed to the development of greener technologies and more environmentally friendly methodologies.
The concept of biorefineries and the utilisation of renewable-derived resources (e.g. biomass) has been increasingly popular in recent years as a promising alternative to meet some of these future challenges [1]. The development of analogous refinery-type processes based on adding value to biomass and waste via transformation into valuable chemicals, materials, fuels and energy is the way forward to advanced sustainable practises for future generations. Biomass holds a remarkable potential in terms of diversity, composition, variability and abundance to be the core of biorefinery concepts in potentially future industrial ventures [2].
Profiting from its unique nature and complex structure, scientists have devised ways to deconstruct different biomass feedstocks into simpler entities (the so-called platform chemicals) from which several transformations to valuable products can in fact make possible the conversion of biomass-derived feedstocks in a more rational and understandable way. In this regard, simpler and more understood chemistries can be in principle designed to provide similar end products (e.g. solvents, fuels, plastics, pharmaceuticals, agrochemicals, etc…) to those currently obtained from crude oil [3]. Significant challenges are still however to be addressed in terms of developing chemistries under aqueous processing conditions, design of stable and active catalysts and essentially different processing of biomass as compared to petrol-derived feedstocks for chemicals and fuels production (e.g. de-functionalisation through mainly deoxygenation instead of functionalisation/upgrading/molecular weight-structure adjusting steps) [3].
Glycerol is one of such relevant biomass derived platform chemicals which has a significant potential in terms of conversion to valuable products (Scheme
1
). Glycerol is currently generated in large quantities as a by-product of the biodiesel industry [
4
]. Being a polyol with three hydroxyl groups with different reactivity, multiple chemistries ranging from redox (e.g. oxidations, hydrogenolysis) to acid-catalysed processes (e.g. etherifications, esterifications), dehydrations and oligomerisations can be designed to a number of useful products with applications in the polymer, agrochemical and pharmaceutical industries [
5
]. A number of recent overviews on glycerol conversion are available in the literature. For further information, readers are kindly referred to key recently reported overviews in the field [
6
–
10
].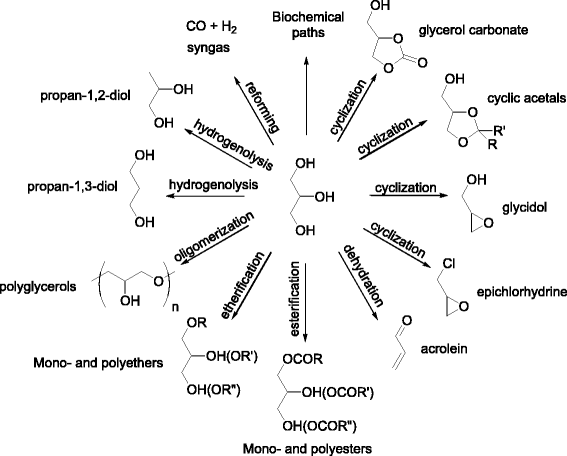 Interestingly, only few reports are currently available on continuous flow glycerol valorisation processes which however can offer several advantages in terms of future industrial implementation. Indeed, continuous flow chemical processes for biomass valorization to fuels and chemicals hold significant potential for future development in our aim to drive our chemistries to more efficient and scalable approaches, while being environmentally sound and sustainable at the same time. Continuous flow processes can offer faster and safer reactions and reaction optimization, allowing in some cases to conduct chemistries that are not possible under batch conditions [11]. Simpler setups can be then subsequently scaled up to larger scale processes in which process intensification can also allow an efficient control of parameters (e.g. temperature, flow of gases and/or reagents etc.).
In view of the possibilities of continuous flow processes applied to biomass conversion, this contribution has been aimed on providing a short overview on selected possible valorization reactions and added-value chemical obtained from glycerol under liquid phase-continuous flow processing in recent years.
(1)
EA4297, Centre de recherche de Royallieu, Université de Technologie de Compiègne, BP20529, F-60205 Compiègne, Cedex, France
(2)
Departamento de Quimica Organica, Universidad de Córdoba, Edificio Marie Curie (C-3), Ctra Nnal IV-A, Km 396, E14014 Cordoba, Spain
(3)
Department of Chemical and Biomolecular Engineering (CBME), Hong Kong University of Science and Technology (HKUST), Clear Water Bay, Kowloon, Hong Kong
© Len and Luque; licensee Chemistry Central Ltd. 2014
This article is published under license to BioMed Central Ltd. This is an Open Access article distributed under the terms of the Creative Commons Attribution License (http://creativecommons.org/licenses/by/2.0), which permits unrestricted use, distribution, and reproduction in any medium, provided the original work is properly cited. The Creative Commons Public Domain Dedication waiver (http://creativecommons.org/publicdomain/zero/1.0/) applies to the data made available in this article, unless otherwise stated.