Research article

Open Access
Lipase mediated transesterification of Simarouba glauca oil: a new feedstock for biodiesel production
Sustainable Chemical Processes
2013
1:11
Received: 5 March 2013
Accepted: 26 June 2013
Published: 9 July 2013
Abstract
Background
Immobilized lipase mediated tranesterification process for new feed stock Simarouba glauca oil for biodiesel production has been developed by utilizing the greener aspects of immobilized biocatalyst in n-hexane solvent system. The presence of solvent system helps to overcome the negative effects of methanol and glycerol, the end product. Effect of methanol to oil ratio, reaction time, methanol to hexane ratio, reaction temperature, agitation speed and immobilized lipase on final molar conversion were investigated.
Results
A maximum yield of 91.5 % fatty acid methyl esters with a 62.23 % molar conversion with respect to methyl oleate has been achieved with oil: methanol molar ratio of 1:1, using 10 U of immobilized lipase/g of oil and with methanol to oil ratio of 1:0.6 in a reaction time of 36 h at 34 °C and 200 rpm. Immobilized lipase has been reused successfully up to 6 recycles with retaining relative activity of more than 95 %.
Conclusion
Lipase mediated tranesterification of new feedstock Simarouba glauca oil for biodiesel production has been successfully carried out under n-hexane solvent system. Utilization of immobilized lipase, which facilitates reuse helps considerably for the economy of the process. The introduced new feedstock with a green tinge seems to be a very promising to the biofuel sector for biodiesel production through sustainable approach.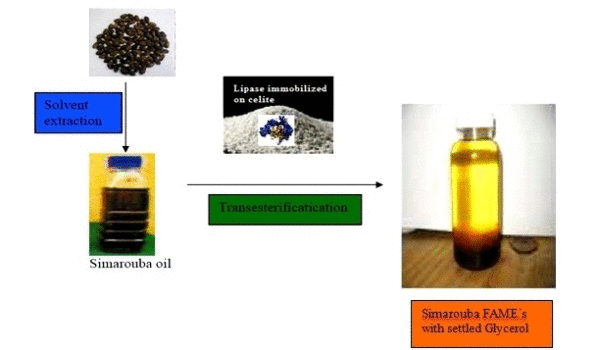 Keywords
Fatty acid methyl esters
Immobilized lipase
Solvent free
Transesterification
Simarouba glauca oil
Background
Escalating oil prices and depletion of oil reserves necessitate better alternatives of energy from fossil fuels. With the rise in concern for pollution caused by fossil fuels such as petroleum, coal and natural gas, alternative fuels and renewable sources of energy such as biodiesel are coming in vogue [1]. Renewable fuels such as biodiesel is one of the potential contributors for solving the energy problem. Biodiesel is a biodegradable, non-toxic, and a low air pollutant emitting fuel than the petroleum diesel [2]. Biodiesel, which consists of fatty acid esters derived from oils of plant origin such as pongamia, mahwa, waste oils. Simarouba glauca (simaroubaceae) is an oil yielding tree native to South and Central American countries such as Costa Rica, El Salvador and brought to India by National Bureau of Plant Genetic Resources (NBPGR) and cultivating mainly in sub-humid climate of Orissa and semi arid, dry, saline land areas of other Indian states like Gujarat, Maharashtra, Tamilnadu, Karnataka and Andhra Pradesh. The oil produced by each Simarouba tree accounts per 1–2 t oil per year grown under wide range of temperatures (10–45 °C) [3]. Owing to its 50–65 % oil content from seed part along with good amount of unsaturated fatty acid content (59–65 %, oleic acid) we have made an attempt to transesterify this Simarouba oil to biodiesel through biological green approach of immobilized lipase mediated transesterification [4]. It has a iodine value (IV) of 50–54 % and saponification value of 191 with oleic acid as a predominant fatty acid [5]. IV provides a measure of unsaturated fatty acid content and helpful in determination of viscosity and cloud point. The recent research finding indicates that the IV has no role in prediction of oxidative stability (as it does not take into account the positions of the double bonds available for oxidation) [6]. Having low IV values of Simarouba oil and that also in the range of standard specifications [EN14214 (≤120) and DIN 51606 (≤115))] corresponds for possible high cetane number, reduced NOx emissions and degradation potential of formed fatty acid methyl esters (FAME's) seems to be a better source for biodiesel through lipase mediated transesterification [7]. The usage of plant based oils clogs diesel engines due to their high viscosity. Among the existing methods (physical, chemical and biological), immobilized lipase mediated methanolysis of plant oils through transesterification has proven the most significant step towards making FAME's (biodiesel) due to the low cost of methanol, ecofriendly reaction conditions and the chemo-, regio- and enantiospecific nature of lipase [8]. Immobilized lipase mediated methanolysis involves lyses of plant oils into methyl esters and glycerol in presence of immobilized lipases [9].
Lipase-catalyzed transesterification of oils to FAME's gives a very high-purity product that can be easily separated from glycerol. The immobilized lipase can also be reused for multiple reactions and able to tolerate enzyme inhibitory effect of methanol and glycerol [10]. In particular, the glycerol can be easily removed without any complex process, while the free fatty acids contained in waste oils and fats can be completely converted to alkyl esters [11]. Transesterification variables such as methanol to oil ratio, reaction time, amount of solvent, temperature, addition of water, agitation, amount of immobilized enzyme are the critical factors affecting the FAME´s yield [12]. The role of transesterification variables such as molar ratio of alcohol, temperature, type of catalyst on the final yield of transesrification has been reported in case of different plant based oils [13]. Several researchers reported the efficacy of covalently immobilized lipases in transesterification of different plant based oils and different aspects of the processes have been tested time and again. In another instance, free and covalently bound lipases were used for the alcoholysis of salicornia oil and obtained a methyl ester yield of 45 % and 55 % after 12 h with free and immobilized lipases respectively [14]. Dossat et al., 2002 [15] have studied the enzyme catalyzed transesterification of sunflower oil using immobilized Lipozyme. The optimal yield, as determined by methyl esters was 60 % with respective to oleic acid. In another study, Du et al., 2004 [16] employed Novozyme 435 for the transesterification of crude soyabean oil and achieved a methyl ester yield of 94 % in 120 h.
Owing to its high content of oleic acid, in our present study Simarouba glauca oil have been evaluated first time for its feasibility as a biodiesel through immobilized lipase catalyzed transesterification reaction using n-hexane as a solvent. Based on the previous studies documentation towards high cost for utilization of pure lipase and its immobilization, in the present attempt a fungal lipase produced through cost effective solid state fermentation has been utilized and has been covalently immobilized on celite for its efficient utilization in the transesterification reaction.
Experimental
Microorganism and chemicals
A well known lipolytic fungal strain Rhizopus oryzae 3562 was isolated from the local soil of IIT Kharagpur and maintained on PDA (Potato Dextrose Agar) medium. p-nitrophenyl pamitate (p-NPP), Methyl oleate standard were purchased from Sigma (USA). All chemicals used were of AR grade and were procured from Merck, Qualigens and Himedia, India.
Production, immobilization of lipase
Lipase was produced using wheat bran as a substrate through solid state fermentation as mentioned in our previous work [42]. Lipase immobilized on activated celite (50 U/g, data was not shown) through covalent immobilization was utilized for the present tranesterification reaction.
Lipase assay and protein determination
Lipase assay was done spectrophotometrically using p-NPP as the substrate. One unit (U) of enzyme is defined as the amount of enzyme that liberates one micromole of p-nitrophenol per minute under the assay conditions. Total protein was estimated using bovine serum albumin (BSA) as standard as described by Lowry et al. 1951 [43].
Lipase mediated synthesis FAME's
Simarouba glauca oil, methanol and solvent were taken in different ratios (oil to methanol molar ratios of 1:1–1:10 and methanol to solvent ratio's of 1:2 –1:10 v/v) in a screw-capped vial. Immobilized lipase (20–100 U) was added to the reaction mixture and incubated at different temperatures (25–45 °C) and shaking rates (100–300 rpm). The progress of reaction was monitored by withdrawing aliquots (100 μl) at various time intervals (12–96 h). Samples taken from the reaction mixture at specified times were centrifuged at 1747 g for 10 min to remove the immobilized enzyme. They were then diluted with n-hexane (10 times) and analyzed by gas chromatography.
GC analysis
Methyl esters were analyzed by using Agilent 6820 Gas Chromatograph with a flame-ionization detector (USA). The capillary column (length 30 m, internal diameter 0.25 mm) with nitrogen as the carrier gas at a constant pressure of 4 kg cm2 was used. Column oven temperature was programmed from 150 to 250 °C (at 10 °C min-1) with injector and detector temperatures at 240 and 250 °C, respectively. The % molar conversion of products was identified by comparing the peak area of standard methyl oleate at the particular retention time.
Conclusions
Methanolysis of Simarouba oil with lipase immobilized covalently on celite to yield FAME's (biodiesel) through transesterification has been investigated. The effect of transesterification variables such as methanol to oil ratio, reaction time, volume of solvent, reaction temperature, initial addition of water, agitation speed and quantity of immobilized lipase on molar conversion (%) was monitored. A maximum molar conversion of 62.23 % with respect to methyl oleate (with 91.5 % yield) was obtained after a reaction time of 36 h at 34 °C in the presence o 10 U immobilized lipase using methanol to oil ratio of 1:1 and solvent to oil ratio of 1:0.6. The FAME's production was not influenced by the addition of water up to 20 % (v/v). The immobilized lipase was reusable for six cycles with retaining the relative activity of more than 95 %.
Declarations
Acknowledgements
The authors gratefully acknowledge MHRD, Govt of India for providing research fellowship to Vijay Kumar Garlapati & Ravikant, CSIR, India for providing research scholarship to Annapurna Kumari.
Authors' Affiliations
(1)
Microbial Biotechnology and Downstream Processing Laboratory, Agricultural and Food Engineering Department, Indian Institute of Technology, Kharagpur, India
(2)
Venkateswar Institute for Sustainable, Innovative and Objective Nurture, Baramunda, India
Copyright
© Garlapati et al.; licensee Chemistry Central Ltd. 2013
This article is published under license to BioMed Central Ltd. This is an Open Access article distributed under the terms of the Creative Commons Attribution License (http://creativecommons.org/licenses/by/2.0), which permits unrestricted use, distribution, and reproduction in any medium, provided the original work is properly cited.